Today's critique comes from artist Debbie Dunlap. Debbie said that she normally completes black and white oil portraits but  wanted to be more creative in this piece. This is a 30×40″ acrylic painting. This was Debbie's 6th painting. I love the feel of this piece! The subject matter, the movement, its just one of those paintings that you want to keep looking at. You've done such a great job of blending your reds into your yellows and the shine on the top of the piano is beautiful. Your subjects are well drawn out too!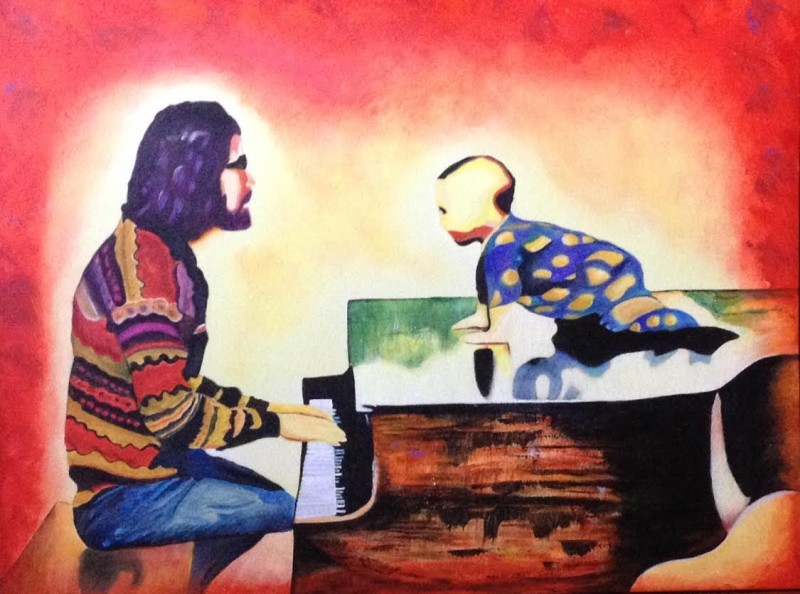 Looking at a few things that we can adjust to improve further on this one, first looking at the man's hair, in your reference photo it's black, which balances out the black in the piano and the black on the baby's shadow quite well. Here, because it's purple, it's not quite dark enough to create the balance that your reference photo has.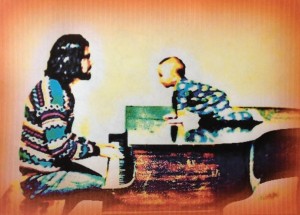 This black is so important in this piece for keeping the balance. Another area where more black is needed would be under his leg. In the reference photo, this area starts to fade out, but even then you can see that there could be a much thicker, heavier dark like here, as well as on his leg farthest away from us.  The other thing to be aware of here is that his leg and rear are too small. While I did increase the size of his leg, his back end is a bit out of proportion with the rest of his body still.
The next thing is for the bottom of the piano. Because that line is so harsh, it is the viewers attention off the subjects. If we soften out that bottom edge like how your reference photo is, it will keep the viewer inside the painting.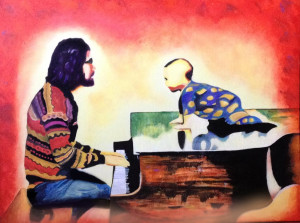 The last thing that I want to look at is on the background. I love that you pulled the reds you used into the man's sweater. This was HUGE in making these colors work well together. The only thing that looks a bit out of place is the glow around the subjects. It's coming out very boxy which isn't working well with the rest of the design. If you soften that glow and round it a bit it will keep the focus on the subjects instead of drawing the viewer to those harsher lines around them.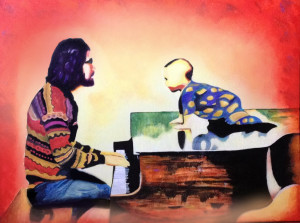 You had said that you wanted to get a more realistic natural reflection in the piano. Honestly, because this is more of a pop art style, I would leave it exactly how it is. I think you did a great job on that and it works well with the rest of the piece.  This really is a beautiful painting!