Today's submission comes from artist Ryan who has a bit of an interesting story of how this painting came to be. He had never painted before. He picked up a damaged print at a Big Lot's (does anyone else remember when that store used to be called Pick n Save? I'm aging myself, aren't I? Anyway, this canvas had tape over a portion of the damage. You can see where that was on the finished painting, the virticle lines going down the right-hand side.  He used latex acrylic house paint to paint this. I am SO impressed. First painting?!? And with bad supplies! Great work!!!! You've started the shading on the skull so that it's not flat white too which is great!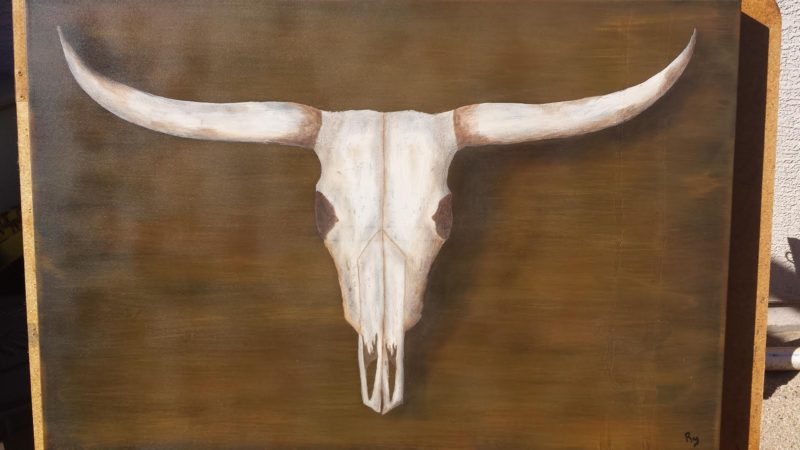 My first tip is to keep adding to the shading on the skull itself. You've got a great start in blocking in where the lights and darks should go,  but keep working on that. Get your darks much darker! Also watch the shadows where the eye holes are. Right now they don't look like  a hole in the skull but more like a dark spot painted on top of the skull. If you can hype up the darks and still leave the light portions for highlights this will really draw the viewer in!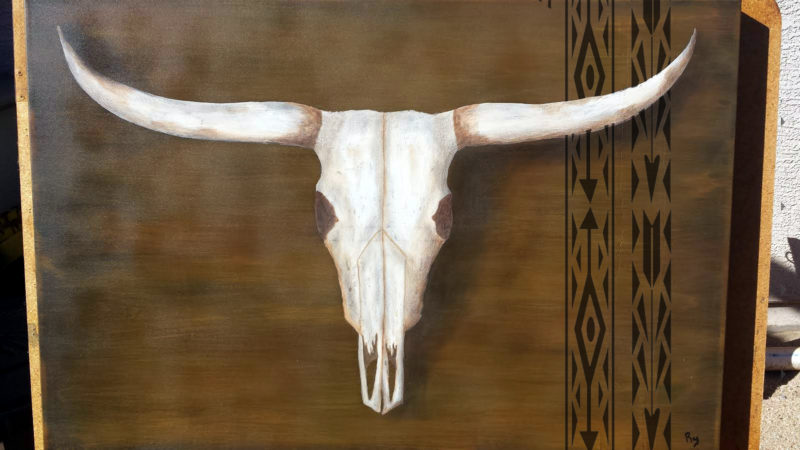 My next tip is for hiding the tape line on the canvas. When you have something happen on a canvas that you can't fix…hide it! In this case, if we run with the southwest theme you're going with and paint a pattern over that, no one would ever notice the actual damage on the canvas! In this case it also makes the entire piece a bit more interesting. This combined with hyped up contrast on the skull would really make this painting stand out!!