Today's critique comes from artist Penelope Abdul. She has completed this drawing in graphite and white pastel. You can check out more of her work on her instagram account that she shares with her mom at https://www.instagram.com/artsypenafore/
She is a very young artist and adds "PS. you should try to Critique 3 Pieces per video to make things go a little faster :)"
HAHAHAHA!!! These critiques take a very long time for me to put together. I have no days off as it is, there is no way possible for me to add more work.
Onto the critique, your drawing is quite good! Great job there! You've started in with your shading and have done a really good job of getting depth in this puppy!
Looking at a few things we can adjust to improve on this piece even more, let's first take a look at the actual drawing. I've imported this into photoshop along with your reference photo, layered your reference photo on top of your drawing, outlined the reference photo in red, then dropped that out so that we can see how accurate your drawing is. You're close! You did such a great job getting the curves and details where they need to be.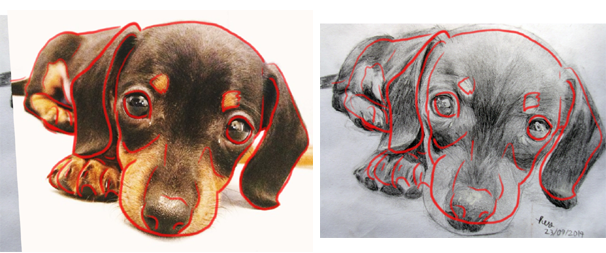 The only thing that is off is your proportion in certain areas, which throws everything off a bit. Even given that though, you have amazing drawing skills. Just take a bit more time to check your work against the reference photo. For example, if you know that the distance between the eyes should be the same as the distance between the bottom of this eye and start of the ear, we can then go to yours to see if that is the same. These are the corrections you want to make before you start shading.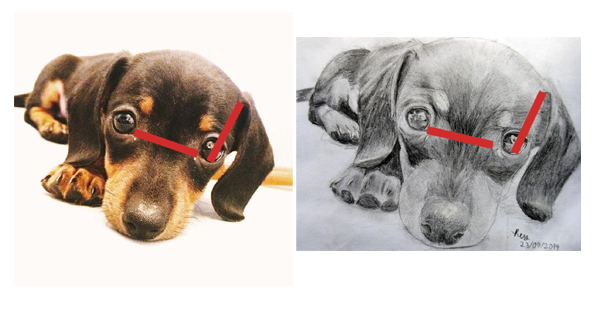 Next let's take a look at your shading. You've started to get your lights and darks in there, you just want to hype them up even more. Look what happens when I add more shading, that little bit will make a huge difference.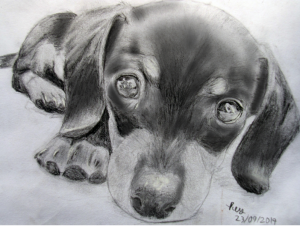 You've done a really great job on this, far better than I was doing at 13!!