Today's submission comes from artist Wong Fung. Wong has completed this cat using Pencil and white pen done on grey toned paper with pastel. I loooove the feel of this piece. You've got beautiful soft texture on the fur, the detail in the eye is amazing and the details and ribbon around the cat just make the whole thing that much better!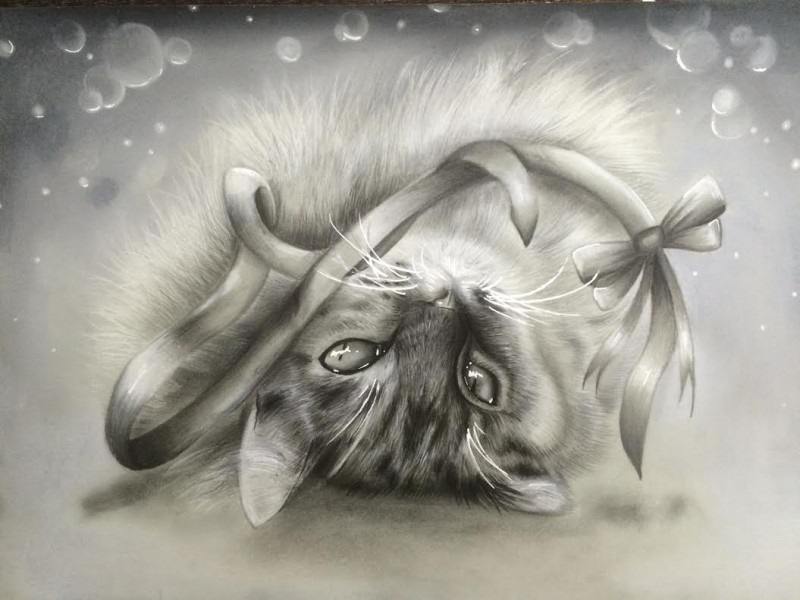 Taking a look at some things that we can adjust to improve on this even more. First, and I don't say this often, but while your drawing is not completely accurate to your reference photo, I do really like the adjustments you made just because it gives the piece a more fantasy feel. Now if this was a paid pet portrait, then I would be much pickier about making sure everything is totally accurate. The biggest thing is that the nose is way too small, and the eyes are a bit too far apart. Even given that though, if a fantasy style is ok with you (I know you said you were going for a more realistic look), I love the adjustments in some of the proportions.
The main thing I would change on this piece is the whiskers. They are just too white. They stand out more than you want them to. I personally would want the eyes to be more the focus. If you can tone those whiskers down a bit, that will help pull attention back to the eyes.
For the ribbon, it's a bit misshaped. What I like to do when adding ribbon to a piece is get some wired stuff from the craft or fabric section of any art store, then position it how I want it to be. This allows me to see where it should curve, how thin or thick the lines should be, and where the shine will hit. It's one of the easiest things to get a good reference for yourself!
This really is a very beautiful piece, I absolutely love it!! Your background, the addition of the ribbon, it let you take a cute photo and give it such an amazing feel!