This week's submission comes from artist Amos. You can view more of her work at www.facebook.com/dreaminpinkstudio. This piece is SO impressive!! The detailing and reflection on the shiny portions of the truck are incredible!! You've captured the rust and old paint look perfectly. You are just a master of texture! I also really love the perspective of this piece.
Lightning
My main tip for this is on the lightning. The position of the two strikes is too uniform, it gives the illusion of two eyes in the clouds. It really draws attention away from the truck which is the subject. Even if we just remove one of the lightning bolts it helps a lot.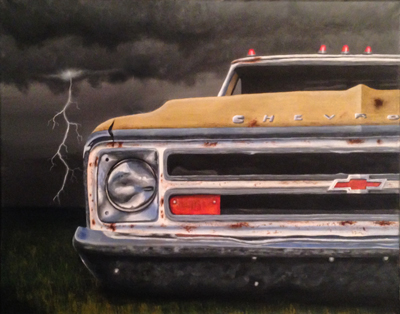 You can have more lightning if you want, I just wouldn't place them side by side evenly like this.
Another thing you can do to make that look more realistic is add a second color around the white portions of lightning. The easiest way to do this is to paint it light blue/purple/whatever and use white just in the center with a thinner brush stroke. It will create more of a glow.
Using Photoshop to Test
When adding a background like this, one of my favorite things to do is to crop my subject in photoshop and try on different backgrounds to see what would compliment the subject best.

While I don't particularly love any of the samples I have tried on above, I do like the first one best (which is actually quite close to your painting already, with the adjustment of the two spots in the clouds). This gives me an idea of where to go in looking for other types of backgrounds that may work well. Once you cut your subject out you can try on background after background quite easily and quickly so you don't find out once you are working on your canvas that something isn't quite right.
I show you in how to do that in this video