I'm sharing the two types of projectors that I've used along with their pros and cons! The main reason I use projectors is to make sure I get my subject positioned on my canvas EXACTLY where I want it. You don't have to use it to trace a photo if you don't like tracing. You can freehand your drawing then use a projector to get the image onto the canvas in just the right place without having a bunch of eraser marks all over from where you had to make adjustments.
Artograph Tracer Projector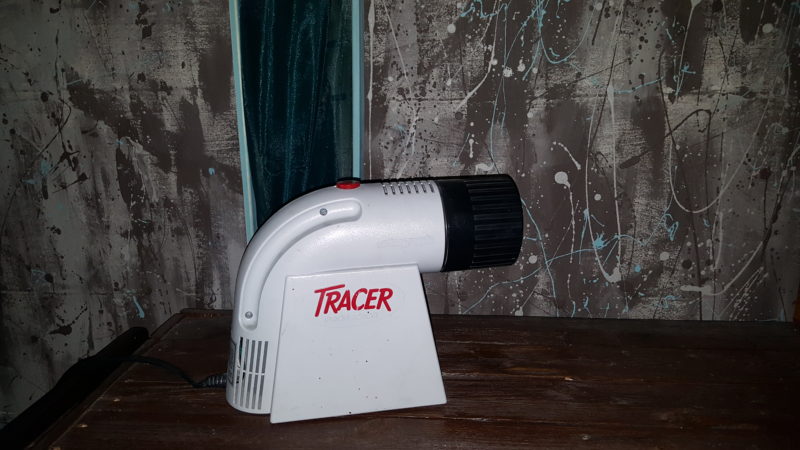 My first was the Artograph Tracer. This one runs around $80. I used this one for quite a few years. With this projector you set it ontop of your image and it uses a system of mirrors and a lightbulb to transfer the image onto your canvas or wall. You will adjust the focus by turning the front portion of the projector. This projector can enlarge your image by about 10 times. I've read some sites that say it's more, I'm honestly not sure and suspect that at some point you're just completely warping the image.
The Good
It's inexpensive
You can replace the bulb very easily…although in my 15 or so years of owning this I've not needed to.
It's inexpensive (yeah, I really wanted another positive and I can't think of many more).
The Bad
It gets SUPER hot. I was always surprised I never started a fire. It can start to warp a photo if you use one to project from.
It is a pain to get it lined up where you want it to be. I would regularly use books to stack on top of a table to get the projector at the right spot when projecting onto a larger canvas or wall. This was always a concern because of how hot the projector caused the book it was sitting on to get.
You have to have your image printed at a very specific size. Too big and it gets cut off. It always took me several print outs and wasted paper to get the image the right size.
The room you use it in needs to be COMPLETELY dark. I mean pitch black.
The image isn't very sharp. It will basically give you a general outline but you can't see much detail.
If you work very large, your projected image will be somewhat warped.
Because of all of the negatives, I moved to using my computer monitor instead for many years. This projector was just more trouble than it was worth most of the time for me.
Artograph Inspire800 Digital Art Projector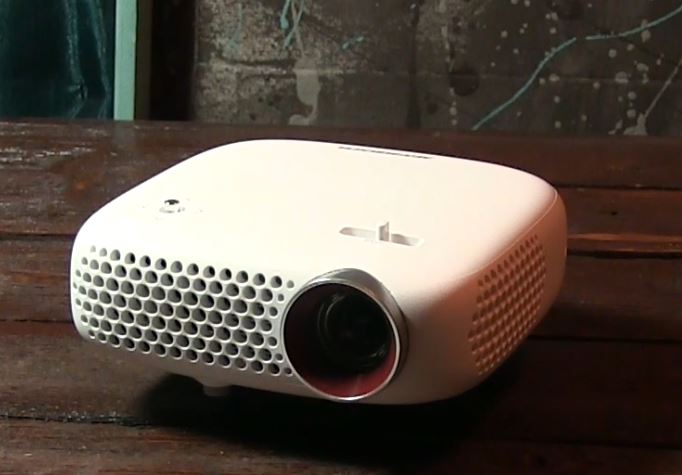 When looking for more products to review…and of course something to make my life easier, I started looking into upgrades for my projector. I hardly ever used it anymore because of the negatives listed above. I came across the Artograph Inspire800 Digital Art Projector. This one is digital. You can put your drawing or photo onto the supplied USB drive (or any other USB drive) and load it straight into the projector. 
The Good
You can use the USB drive or go wireless to get your image onto your canvas or wall.
You can use this in a fairly light room and still see crisp details. I SO wish I had this projector with me when I was teaching classes in person. I could never use the other projector in class because we couldn't turn the lights off for all of the other students. I think if you teach, this would be a great addition to your class supplies!
You will be able to see super sharp details. The image projected is extremely sharp.
It is small and comes with its own case.
It fits onto your tripod (not included) to make it easy to get into the right position. No stacked up books required haha.
It has art programs included with 22 grids.
The Bad
It is quite expensive. While I'm glad I saved up and got this one, it was a large investment.
The remote control was made badly. When I got mine, and put the battery in, I had to really push to get the battery into the unit. I'm tech savvy enough that I know how to correctly put a battery in, and the amount of pressure needed was alarming. More alarming is that it wouldn't work!! I contacted the company who makes them and spoke with a VERY helpful employee. They told me that they've had issues with this exact thing on the remotes. The company who made the remotes assured them that 1) they had resolved the problem and 2) it was caused by people putting the battery in upside down. Both claims were false. The person from Artograph I spoke with told me how to pull the remote apart and what to look for. What was happening is that one of the connectors was not in the right position, so when anyone put the battery in, it pushed that piece back like an accordion. I flattened mine out but it still wouldn't work. Artograph sent me a replacement remote. Did I mention how nice they were to deal with? I was really frustrated with the product until I spoke with them. Once the new remote arrived, the same problem occurred. There was NO way to slide the battery in without damaging that connector. I ended up using a palette knife to hold that connector down while I slid the battery into place. This is obviously a pretty big issue, but artograph is dealing with it and handled my replacement quite well!  For the price of this unit I would expect a better remote.
I do want to note that the  Artograph Inspire800 Digital Art Projector is the exact same unit as the LG Electronics PW800 Minibeam Projector. The only difference on the outside is that the Artograph version does not have that outer casing. Besides that there are some software differences. The artograph projector was made specifically for artists projecting our work so the programs like the grids work around that. If you don't care about the grids though, you may want to consider saving a bit of money and picking up the regular LG one. Even if you want grids I imagine you could do that in photoshop and load it in yourself through the USB drive.  Because of the software difference, the LG projector will go into power saving mode if you leave the image on for too long and it turns off. I have a friend who uses this one and fixed that problem by loading two of the same image, then the unit just cycles through both of them for as long as she wants. 
In the end, while the Artograph Inspire800 was a big purchase that required some saving up for on my part but I LOVE it and am so happy with my purchase. It has saved me so much time which is one of the most important things in the world to me these days! Time saved = more videos!!  I think I can watch movies on it like the LG projector too…I've not tried that yet though.