Today's submission comes from artist Dipen Patel who completed this car drawing in graphite and charcoal. This was drawn SOOO well, especially from this perspective. I think that drawing cars from the side or front is so much easier than a more unique position like this, so great job!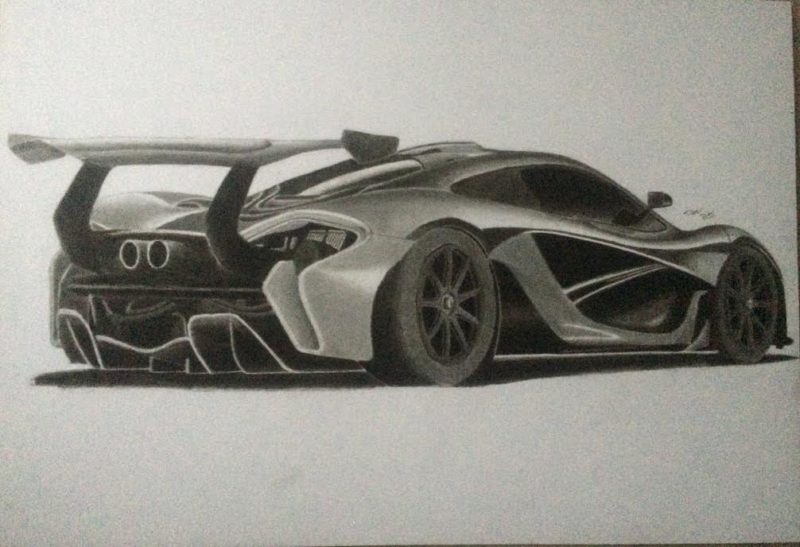 Photographing Your Work
In your submission, you said you had no way to get a good photo of this. It is too large to scan and you only had a cellphone to take the photo. The problem is I can't see what I need to see to really give a good critique, so we are going to talk more about getting a good photo. This one is super grainy which tells me it was taken indoors in poor lighting. Most cellphones can get perfectly good photos for online sharing, so I doubt the phone camera itself was your problem. No matter what type of camera you have, you have to learn how to get decent photos of your work with that camera and figure out what lighting is going to work best. I prefer to take photos indoors in indirect bright light. I have to play around with it quite a bit to get the right shot, but it's something you really have to practice with. Getting good at taking photos of your art is as important as getting good at your artistic techniques themselves! If your phone doesn't take good photos, get a friend to come over and use their phone or camera.
Next, you said in your submission "I was quite impressed with myself when I finished it because that was my best drawing so far, but every time I keep looking at it I seem to dislike it more and more. It looks absolutely great from afar, but I don't like it from close up. I still get gloss/shine problems which I hoped the charcoal would fix but it did not."
This is not uncommon. As long as you are noticing specific things that you would change next time, this can be very helpful in your growth as an artist. Being able to say "I would add more details to the tires next time" can really help, where saying "ugg I don't like it" does not. If you're going to sit and look at it, think about the parts you love and the parts you would change.
As for the gloss/shine of the graphite, charcoal won't fix this because the graphite is still going to be shiny. If anything it makes it worse because now you have super flat areas right next to shiny areas. It makes the difference more noticeable. Graphite is a lubricant. As you layer and layer, or even worse…add pressure to the pencil, you're polishing that graphite to a high shine. You can help tone this down by using a light hand as you work.