Today we're taking a look at this Australian White's tree frog drawing completed by artist Brinjen Russel from www.brinjen.com. I love this guy. I actually had an Australian White's tree frog for 12 years. His name was "Rib". His last name was "Bit"….aaaaaanyway these are really cool frogs. This guy happened to live in Brinjen's bathroom. I swear I'm moving to Australian if I keep hearing stories like this! I love this piece. The drawing  pretty good, and I like the bright greens used.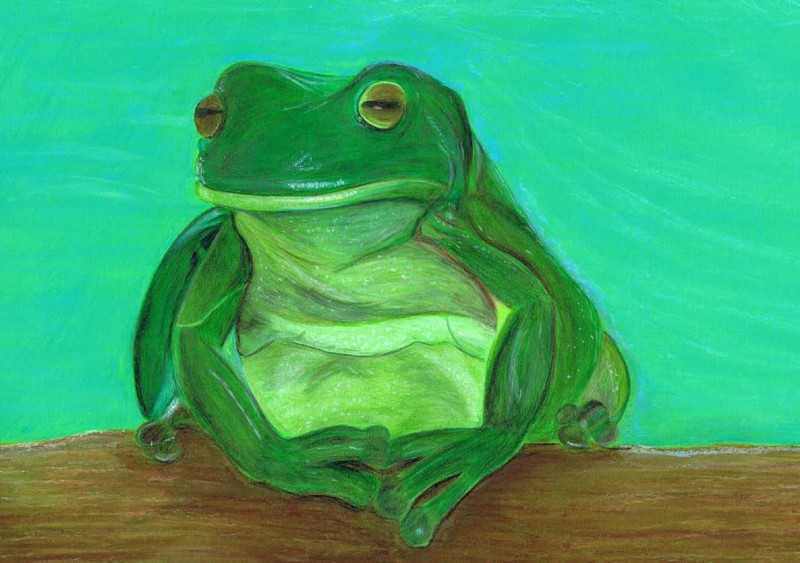 Looking at a few things we can adjust to improve on this guy even more, we're going to look at three key points. The drawing, the shading/contrast, and the background (which is where Brinjen was most interested in adjusting). First on the drawing. As usual I imported it into photoshop, layered the original photo over the drawing, outlined the photo in red, removed the photo and then looked to see how close our lines were to the drawing. You can see here we're a bit off. Luckily, frogs are pretty lumpy and you can get away with that.  The main thing in the drawing that I adjusted was the shape of the top of the head. the rest is close enough I wouldn't mess with.
Next we're going to take a look at the shading. You have an awesome base here. You went more bright green which is nice, but the belly I would definitely pull out those whites. You don't have to add a lot to make a huge difference in how three dimensional this guy looks. A bit thing when painting frogs it so make sure you get those really white shine dots showing.  I've also taken a darker color to some of the shaded areas. Nothing I'm seeing is "wrong", just unfinished 😀
The last thing we're going to take a look at is the background. Whenever I do a background I try on TONS of design ideas in photoshop before I pick one. I think this one is too green for the frog. It's causing him to be a bit lost. Sometimes even leaving the background paper white is a better choice than filling it in with a color that takes away from the subject. Here is a tip I can't stress enough for all artists. Learn photoshop!!! This is a skill that is priceless when you're designing your work. I can easily change out several backgrounds until I find just the right one! It's SO much easier than finding out something that looked great in our head actually looks less than ideal when we get it on the canvas or paper!