Today's submission comes from artist Melody Halsrud. She has completed these cockatiels in graphite and colored pencil. I love how you've mixed the colored pencil with graphite on this one. That was very well done. It appears that you left the grey toned areas in graphite and kept the orange and yellow areas in colored pencil balancing this all out quite nicely. These mediums can work well together if you keep the colored pencil portions somewhat separate from the graphite portions. When you try and overlap them they don't play so well together but separate they are a beautiful way to mix media. Your drawing is pretty close and you've got your general shapes well blocked in.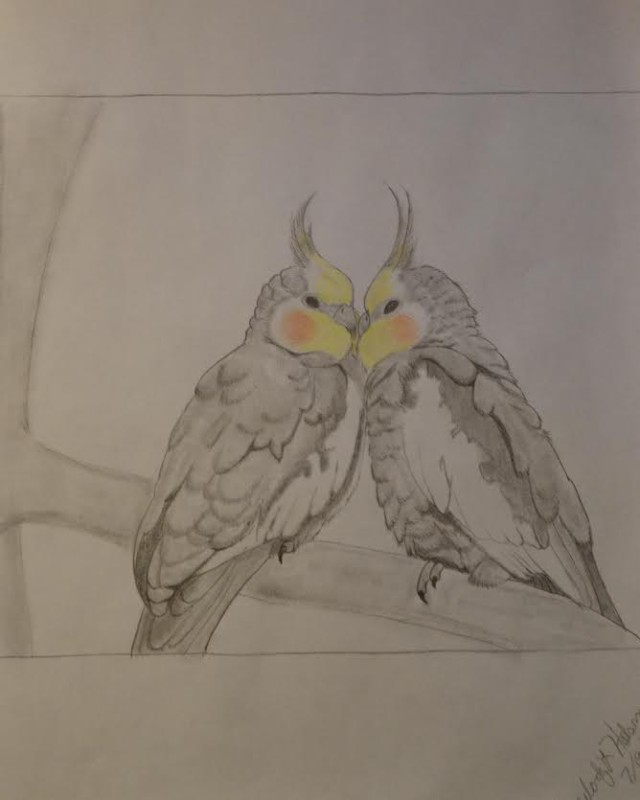 Taking a look at some of the things we can adjust to improve on this even more, my first thought is that this isn't quite finished. It's maybe about 1/3 of the way done. There are a few drawing adjustments, like the crowns aren't quite tall enough, the eyes aren't shaped quite right.  While many of these details are minor, once you start shading and adding detail they will become more annoying to work with for you, so as always I can't stress enough the importance of making sure your drawing is completely accurate before you ever start shading.  In your submission, you stated that you wanted help with the feathers. This is where I think the majority of the additional work could be done.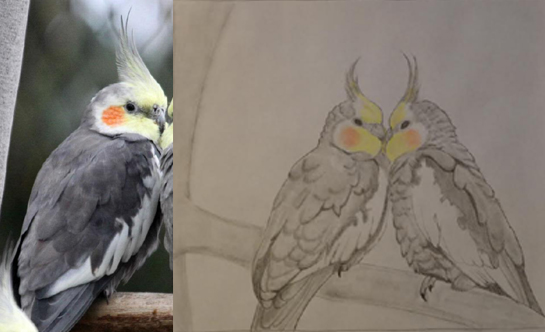 You've already done the hardest part, you've got everything blocked in. The next stages are the most fun parts in my opinion. Now you get to work on the shading and detail. On the back feathers especially you will notice there are a LOT of different values in there. It's not about sharp detail but subtle lights and darks. The shading you have on the back is quite flat. It's all one value. The same with the white on the wing. You're missing all the lights and darks in these areas. You've got your mid range tones, now it's time to hype up your contrast.
As you start adding more detail and shading to the birds, it will become more apparent that the branch is flat. This is another area where you want to add any needed detail and shading to create an overall stronger piece.
You're really off to a great start, be proud of the work you've done!! You're only going to get better and better from here!!