Today we're taking a look at this swan that was completed in colored pencil on Bristol board by artist  Mark Turnbull. You can check out more of Mark's work on his facebook fanpage at  https://www.facebook.com/mturnbullartandportraits?fref=ts This was Mark's first time working in color. He normally works in black and white. This is a perfect example of the importance of having a good grasp of values makes in your work. In this case you've never worked in color, but because you had a full understanding of values, when you did work in color, it came out looking like you've been working in color for years. People ask me all the time which colors I use for things. I don't honestly pay enough attention to the paint or pencils I'm grabbing to have a list available for everyone. But the colors aren't what's important. It's the values. If you get your values correct, everything else will fall into place. This piece is just all around stunning.  You did such an amazing job on that soft background that I thought it was done with pastels!
The first tip I have for this one is in the crop of the photo. The drop of water is coming so close to the edge of the paper that it pulls the viewer down and off the paper. By leaving a bit more room below, it will help create a better balance, keeping the viewer on your work, which is the goal!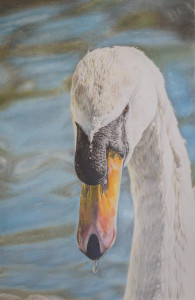 My only other tip for this one is to hype up the contrast a bit which will make the swan just jump out at people.