This week's submission comes from artist Andy Ramirez. He has drawn this wolf in colored pencil with some paint for the snow. This is a great drawing! You've captured the movement in the wolf's face really well! I really like how the eyes and fur came out!
As usual I've imported this into photoshop, layered your reference photo over drawing and lined them up as best I could. Here I lined up the eyes. I then outlined the reference photo in red, droped the photo out and we can better see how accurate your drawing is.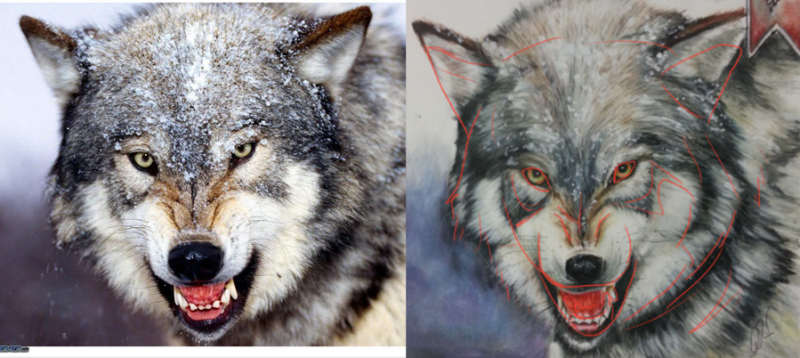 As you can see the ears are too far back and there are some issues with the mouth. For the most part though you are quite close!! I can see that you've got good drawing skills. You just want to take a bit more time to double check your work against itself like I talk about here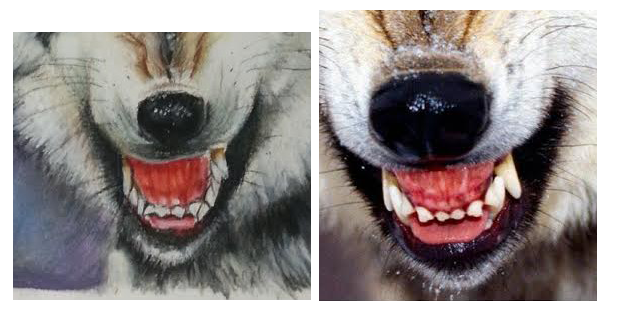 Now the thing with the mouth is that it is the only area in the piece where you have this bold red. That means that the viewer is going to be drawn to this area. While normally I don't like to have colors like this in one spot, I understand why it's like that here. You have to remember though that it is even more important than usual for this area to be drawn and shaded accurately because it's such an attention grabber.
Starting with the teeth, you really dont want those outlined. Instead you will want to have them shaded. Next, look at the gums. They should not be quite as long as you've got them. You want to move the teeth up farther which will give you more room for the tongue which is currently too small. I would also add more light areas to the gums which will help soften that area up. While we're looking so close at the mouth, look at the lips. There is a purple tint in there and some shine. It's also much wider than you've got now. All of these details will help detract from the wolf's gums.
Overall though, you've done a beautiful job shading, blending and creating the texture in the fur! Really nice work!