Today's critique comes from artist Rebeka McFarlane. You can view more of her work on her website at rebekamcfarlane.com. the detail work and shading on this is beautiful! You've done such an amazing job of making this look three dimensional! That sweater is just WOW!! The softness of the blanket works so well at making the subject stand out!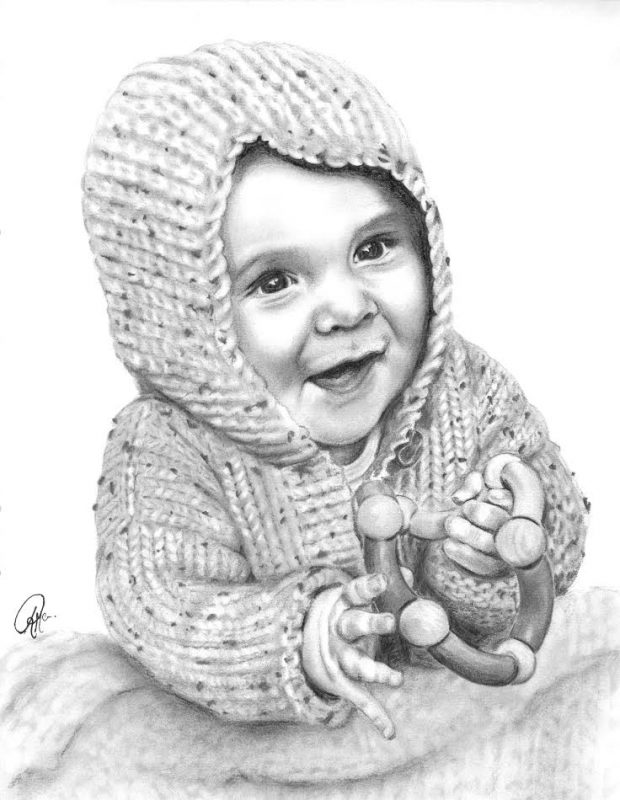 Taking a look at a couple of things we can adjust to improve on this even more, given you are going for such a realistic look, if you sharpen your pencils a bit more and clean up some of the edges, that will make a HUGE difference. It looks like some areas are left slightly over blended. If you are using a blending tool like a tortillon or chamois, it's easy to have this happen. You just want to switch to your pencils for all final blending after using these tools for the initial layers. The 5h and 6h pencils work great for sharpening up some of the softest areas that should still have more defined lines.
My last tip is to spend a bit more time on the hands. They don't feel quite complete. They are so close, but another hour or so of work really refining the details should be enough. Whenever you draw hands, it's best to have set in your head before you start that this part is going to take longer than just about everything else to get just right. I think we often get in our head that the face is the most important so we can move a big more quickly through easier sections like hands or hair. The reality is the hands (and hair) are some of the most difficult to make look realistic.
This is an absolutely beautiful piece as are all of your others. I also want to say that I love the gallery on your website. It makes it quite easy to see and scroll through your work. The entire site is very easy to navigate through!