There are tons of great podcasts out there for artists. These are great to listen to while you paint, drive or take your studio assistants for a walk! I had a request recently to show you guys exactly how to listen to a podcast on different devices.
PC
If you want to listen straight from your computer, you can just go to the podcast creators website and listen from there.  This doesn't actually subscribe you to that podcast though so it's pretty easy to forget to check for new episodes. Being that most podcasts are uploaded to iTunes, I will show you how to use that to subscribe. The first step, if you've not already done so, download iTunes from apple.

Once you've got that installed, you can open iTunes, then on the little three dots, click the "podcast" option. Also, stop judging me, I like twilight AND the horrid acting! Just click the podcast button and move along 😛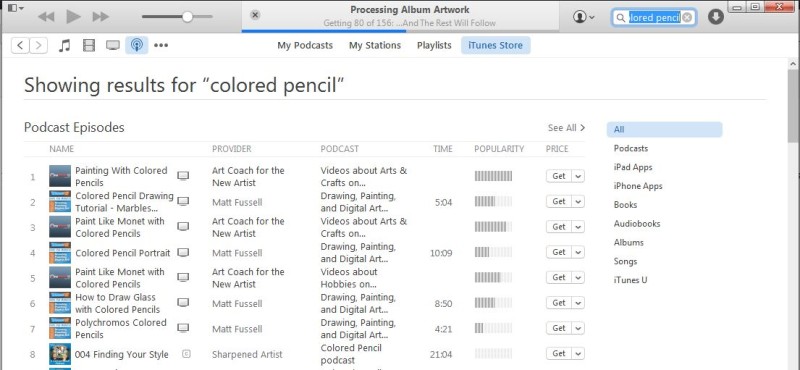 Next go to the iTunes store and then search for the podcast you're looking for. Here I've searched for "colored pencil" to find my own podcast.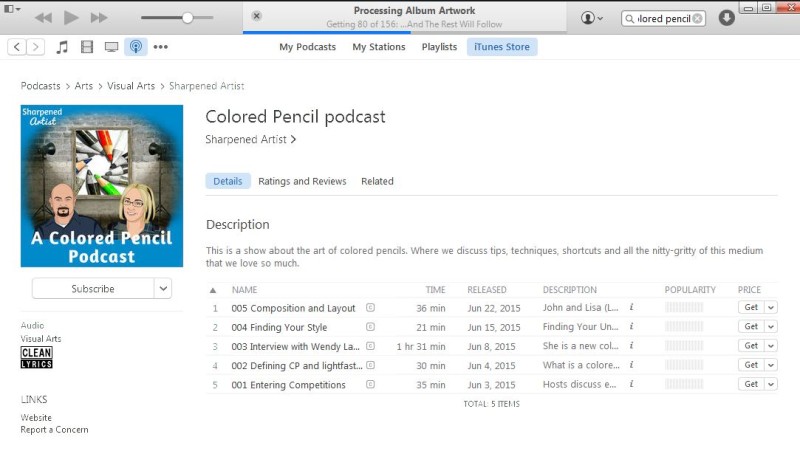 Now that I've found the podcast I'm looking for, I can hit Subscribe.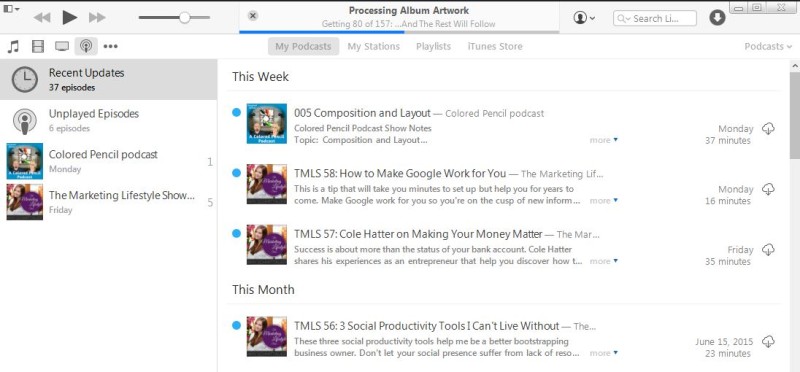 Anytime I go to the podcast feed in my itunes, I will see a list of podcasts available from those I subscribe to.
Android
I personally use android so If I want to listen through my phone, I use an app called Podcast Addict . This is a free app through the google playstore. You can pay $2.99 to get rid of the adds, which I did. I hate adds and I like to support developers who make great apps.

After you download the program, open the menu and click the little plus button at the bottom. Then you can choose the search option. When searching, make sure to click the "use iTunes search engine" option. Search for the podcast you're looking for and subscribe from there. Now you can choose to download the individual podcasts to your phone so that you can listen while you're away from wifi without using up any of your data. If on wifi or if you have unlimited data, you can stream right from the app.
Another option is to just download the podcast from the hosts website. Once you download a podcast your phone will have you choose the app you want to listen through. This can be done through your default music player or through an app like Podcast Addict.
iPhone/iPod

For those of you who want to listen on your iPhone or iPod, start by opening iTunes. Before I start explaining, I'm not an apple user myself so there may be much better ways to do this. I just borrowed my husband's iPod so that I could get screenshots for this video, and that was my first time attempting to pull up podcasts. If you're an apple user, please feel free to leave your suggestions in the comments below of how you prefer to do this!
I started by clicking on the "search" button and then typed in "Colored Pencil Podcast". This pulled up several videos in addition to podcasts, so I then clicked "more" and was given the option to choose just podcasts.
Once I found the podcast I was looking for, I clicked that and was then able to subscribe. You can listen right there in itunes. Once I subscribed, a podcast icon was placed on the homescreen, making it easier to find in the future.