Today's submission comes from a fellow youtube artist Patrick Connors. This is a 24×30″ acrylic painting. You can view more of his work both at Youtube and his Facebook page! His goals for this piece were to just let his mind flow with no real intention.  The thing I love so much about this painting is the depth you have created! You did such a good job making those trees in the back softer and slightly smaller and you increased the contrast on them as you worked towards the foreground. I also love how you used the same yellow and blue tones from the sky in the trees, this makes them feel like it all goes together! You really feel like you can walk right into this scene! I also love the natural flow you have to the branches. They have great movement!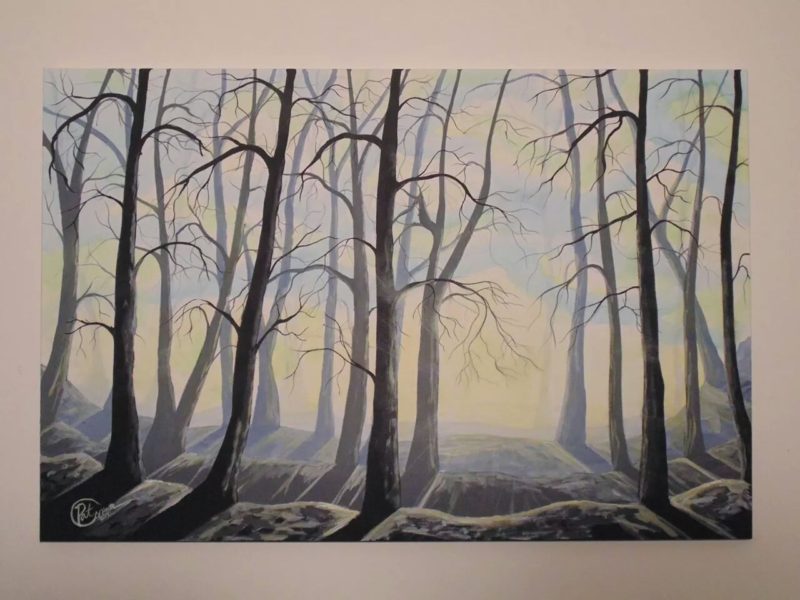 I only have one real tip for this one. Your trees all have a VERY stron light source in how they are casting the shadows the way they are. The thing is, your sky is the same all the way across the canvas. There is no single brighter spot. While this can't be easily changed now (I can't even do it in photosop without making a disaster of those branches), if you were to paint a similar sceen try something where the light is very strong in this area and fade out around the edges. You could even use this same exact shading on these trees and have a moon in that spot in a night scene.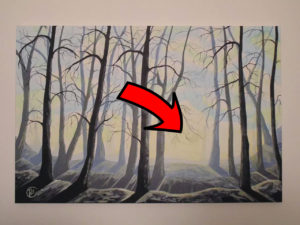 My next tip is on the clouds. Their shapes don't feel so much like three dimensional clouds as they do flat shapes. I know you said you painted this without a reference photo, but until you've painted a few hundred clouds, I would recommend using a few photos when painting them until you have their movement and shapes pretty well memorized. Clouds are one of those things that we can easily create without reference photos, but we need to paint a LOT of them before we hit that point. For some reason we always want to paint them in baked potato shapes and that ends up with a more unnatural feel.