I'm going to show you my layering process for drawing hair and a face! See how easy it is to blend your skin tones using Powder Blender with Polychromos and Luminance colored pencils. I've got lots of tips for you on drawing and coloring realistic portraits in this Beetlejuice inspired lesson!
Brush and Pencil Products can be purchased from the following:
US: http://brushandpencil.com
http://www.dickblick.com
UK: https://www.jacksonsart.com/
Canada: http://www.deltaart.ca/
I'm working on Fisher400 Sanded Paper from ProArtPanels.com
Pencils used: (amazon affiliate links)
The team involved in this photoshoot (instagram tags):
Photographer: @adrian.stecker
Model: @mckennayowell
MUA: @janthonymua
Hair: @hairbygloglo
Designer: @jimmythedressmaker
The photo from Photographer Adrian Stecker's flickr https://www.flickr.com/photos/138047463@N05/sets/72157693364927142/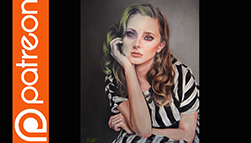 Watch the 3 1/2 hour tutorial at Patreon http://patreon.com/lachri Get access to this and over 150 1-2 hour long tutorials in colored pencil, acrylic painting, oil painting, graphite and inktense for as little as $4/month plus other rewards like high-quality reference photos to use in your own artwork.