Today's critique comes from artist Curtis Carlson. He has painted this rhino in acrylics on a 16×20″ canvas. This is one of those pieces where if someone has yellow in their home and they like rhinos they are going to drool over! Your brush strokes and reflections on the rhino are just stunning! You've done such a great job keeping this looser style yet still holding onto realism. Your contrast and values are beautiful!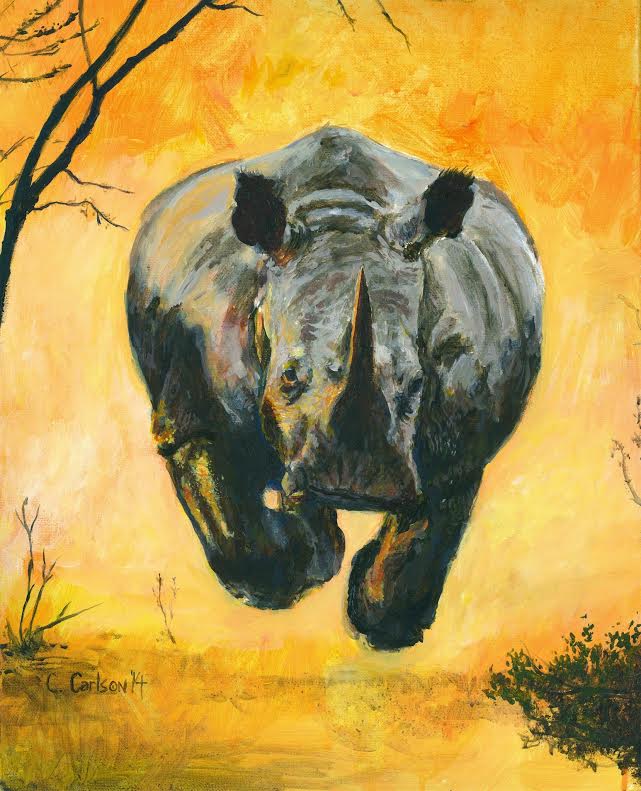 Looking at a few things we can adjust, first all of the elements in this piece, the branches, the rhino, the bush up front there isn't much in the way of indication as to what is in front or behind of what. The tree on the left is almost touching the rhino. I would pull that out farther and make it either go clearly in front of or behind him. I would also add a bit of the beautiful brush strokes and shading on that tree branch as you have on the rhino. Not as much, but just a touch would look great.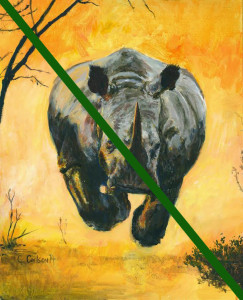 Next let's look at the balance of the piece. With this guy being so dark and right in the middle then the branch in the upper left corner, and another bush in the bottom, it's pulling the viewer from one corner to the next and right off the canvas. Everything just lines up so perfectly here, even the shadow on the rhino. There is nothing pulling the viewer back into the painting.
One possible solution is to pull the bush that is in the lower right-hand corner farther out, let it come out under the rhino some. Another would be to adjust the entire size of the canvas. Having this larger yellow blank space on the right also helps to balance out the heavier weight of the dark rhino, giving the yellow almost 2/3rds of the real estate there.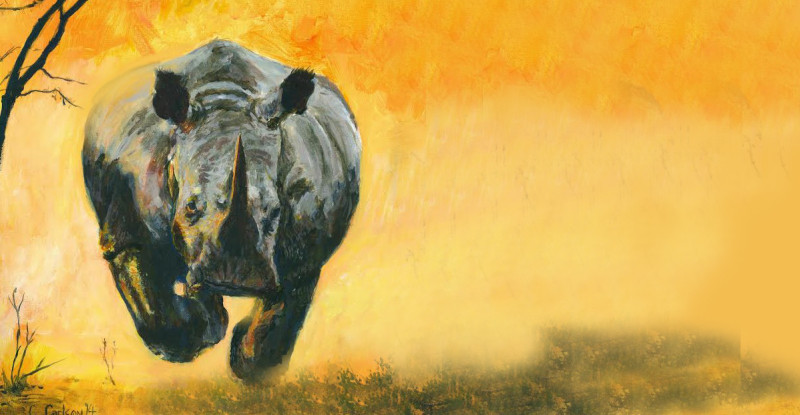 I always like to play with my designs in photoshop before I commit to canvas. It makes it so much easier to adjust things and decide what you will like best before hitting the canvas.
Either way though, this really is a beautiful piece. It's one of those that is totally going to speak to someone who loves the yellow/orange and rhinos.  It has that "this was made for this very specific decor and taste" feel to it with having such bold colors and that means the right person is going to think it's the best painting they've ever seen!
You've done an absolutely beautiful job on this one!