After the flop that was Strathmore's new colored pencil paper, I was a bit afraid to try something other than my beloved Fabriano Artistico HP watercolor paper with my colored pencils. Yes, paper can be beloved! Don't judge!  Enough people love the Stonehenge paper though that I had to give it a shot. I ordered a pad of their "drawing paper" online and was informed by my friend, artist Hallie Romero, that the pad of paper isn't the same as the single sheets that everyone loves. She then sent me a few sheets of hers to try out. Having awesome artist friends is the best!!!! I always talk about the importance of networking through social media…this is a perfect example of how awesome that can be!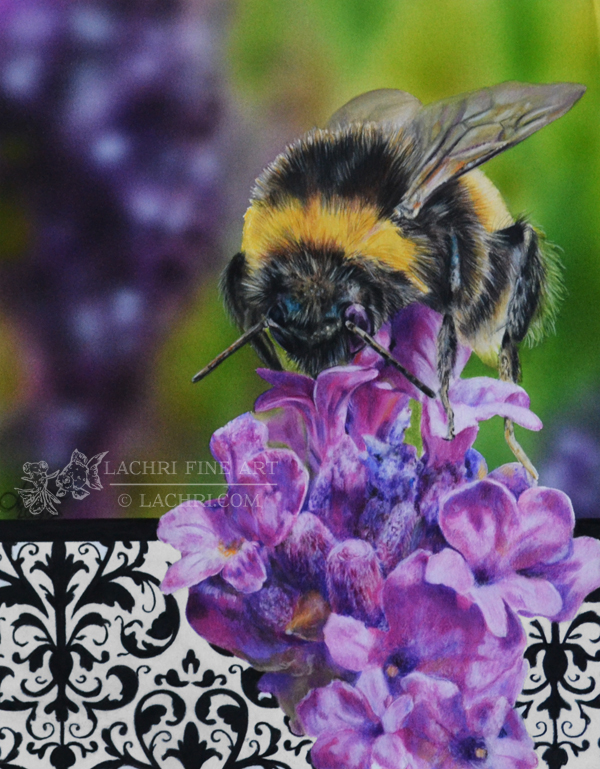 Just like with the last paper review (I feel like I should start calling that stuff "the paper that shall not be named"), I wanted to test out how the paper handled airbrushing a background, masking fluid, and, of course, the colored pencil itself. I worked in Faber-Castell Polychromos (oil based) and Luminance by Caran d'Ache (wax based) as usual. The Stonehenge paper is only 90lb. That was one reason I had never tried it before. I normally prefer a higher weight paper, but I was surprised to find that it didn't feel terribly flimsy. Better yet, when I taped it down, then started airbrushing, the small amount that it warped dried perfectly back into shape. There was even a corner that was bent in shipping that dried totally flat once the wet paint was dried with the hair dryer. Something that the paper that shall not be named (but that was named earlier) would not do.  Even the areas where I used masking fluid dried perfectly flat.
Next I used a stencil and my polychromos pencil in black to draw out the damask print. I chose the polychromos for this step over the luminance because the polychromos gets finer detail. It was here that I saw where some polychromos artists say that they don't like stonehenge. Even when burnishing, the polychromos was just not getting into all the little white crevices of the paper. If you're using paint thinner like I do, however, this really isn't an issue. The paint thinner made the pencil blend beautifully into the paper, it was just something that I wouldn't have needed to do with the Fabriano Artistico HP. Because of this I found that my edges of the damask print were not quite as sharp and clean as I can get on the Fabriano. Realistically this isn't going to be an issue for most people, and it was a minor difference. Areas where I filled the black in with the wax based luminance and burnishing filled in all the little white crevices with no paint thinner needed. The paper seems to like wax based pencils a bit better than oil, but like I said if you're using paint thinner then it isn't an issue at all.
Onto the bee and flowers, this is where I really started to see why so many love this paper. Everything blended SOOOOOOOO nicely! I was able to get the detail I needed, the color saturation on the paper was awesome, and the blending was drool worthy. I did notice that the area I left white for the damask kept getting dirty with smudges from the pencil which is not something I've experienced with the Fabriano Artistico, however throughout the entire piece, colored pencil lifted from the paper with the ink eraser FAR better than with the Fabriano. That was a bit of a happy surprise. In the end, I will absolutely be purchasing more of this paper. I'm not going to give up my Fabriano Artistico, especially for pieces where I want that clean damask print with sharp edges, but there were a LOT of things I loved about Stonehenge too. Which I choose to work on will depend on what I'm painting. I really want to try a portrait on this paper after seeing how smooth colors blend on it.  The only people I would not recommend this paper for are those who work in Polychromos without paint thinner. Everyone else I say give it a try! I had to adjust my technique a bit when working with this, but it really is a nice paper.
My reference photo for this piece comes from photographer Paul Sherman.