Today's submission comes from another anonymous artist. She has completed this in acrylics on an 8×10″ canvas. Landscapes can be difficult to blend smoothly in acrylics, you've done a very nice job.  The shape of your hills in the background is also very well done.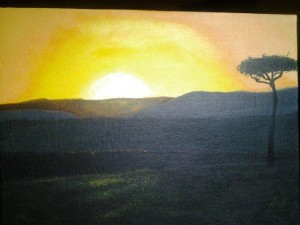 There are only  a few tips I have to improve on this piece even more. First is in the blending of your sky. When creating a sky like your reference photo, you will want to do it all wet into wet. I know this can be quite a pain with acrylics that dry so fast, but given that this was an 8×10, it's small enough that if you work fast, you can do it even without the aid of an airbrush to mist water over it as you work. By painting fast and keeping the paint wet while you work, then using a mop brush, you can create a perfectly smooth transition between your values.  This video shows what I'm talking about. 
Next, notice how you've got the sun off center from the glow around it. Here, I would  make sure that the glow is even around the sun. Moving onto the hill farthest in the back. Right now it's dark enough that you're losing the depth of your reference photo. If you lighten that up by quite a bit, it will make a huge difference in creating mountains that feel like they are far off in the distance.
My last tip is for photographing your work. Getting a decent shot of a painting that is so dark is really difficult because of glare. Make sure that you never NEVER take a photo of your work with the camera flash. Ideally, use natural daylight. Try positioning the painting so that the light (not direct light by the way) is hitting the canvas at a 45-degree angle. If you have the painting facing your light source you will get even more glare. You also want to make sure that your camera is squared off perfectly straight with your canvas.