Fan Interaction. We all want it, and with how facebook analytics work, we NEED it in order for more of our fans to see our posts. It's been common knowledge for a while now. The more people who comment/like/share your facebook posts, the more of your fans facebook will share that post with. Unless you want to "pay to promote" your posts of course. I personally refuse to do this given the cost of that service and that facebook is already making money off of the content I post.  I'm stubborn that way.
One of my favorite ways to figure out what works and doesn't work for getting your fans to take the time to comment, like, or share is to use the Insights tool combined with watching other artists pages. I don't just mean "liking" another artist's page, I mean add other artists to your watch list. and pay attention to their numbers.
Step #1 – go to your "Insights" tab at the top of your fanpage.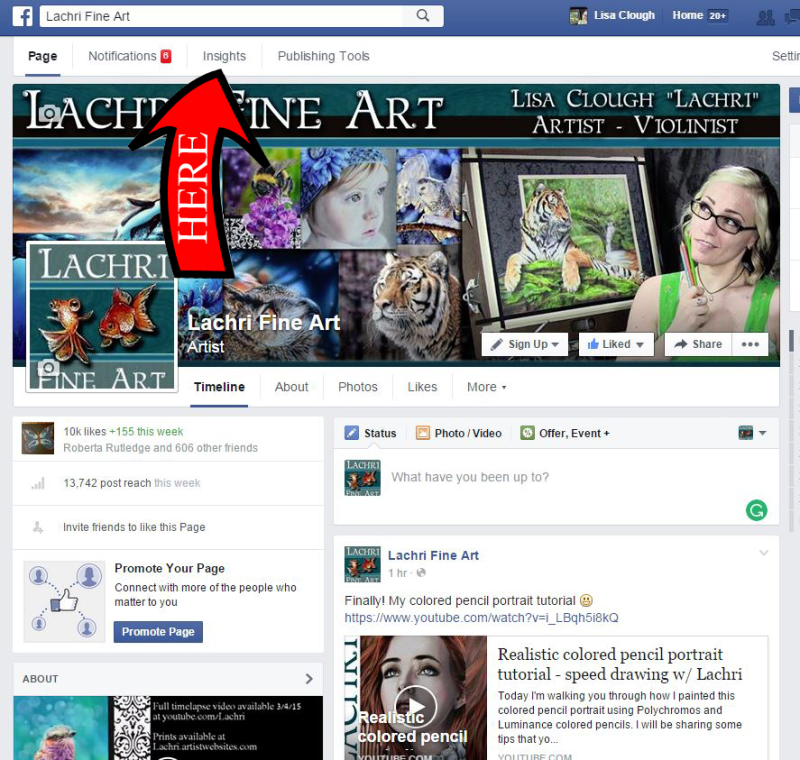 Step #2 – Scroll down a bit until you find the blue "pages to watch" section and click "Add pages", then add several artists.

Now how does this actually help you? Start paying attention to the other artists stats and notice what they are doing on their pages. Some of the trends you're likely to start seeing is that if the artist has a LOT of posts, but not the greatest engagement, They are doing something wrong. There are several things that factor in here, but the most common cause is when the artist does non stop self promotion but isn't actually providing value to their fans.
Wait? What is value? How do I provide that?! 
Value is not just sharing photos of your awesome work. If your page is all about you, people stop interacting.  It's even worse if all you post are things you have for sale. This is for two reasons. One, facebook seriously filters promotional type posts now. Hardly any of your fans will see this sort of content. Even before they started filtering these posts though, promotional things get ignored more often than not. Most people do not want to be sold things on social media. I talked about this a few weeks ago in This Blog. What are you posting that helps other people.  Do you offer art tips, links to useful art blogs or videos? You need to find what works for you, but all sales all the time will hurt you on social media.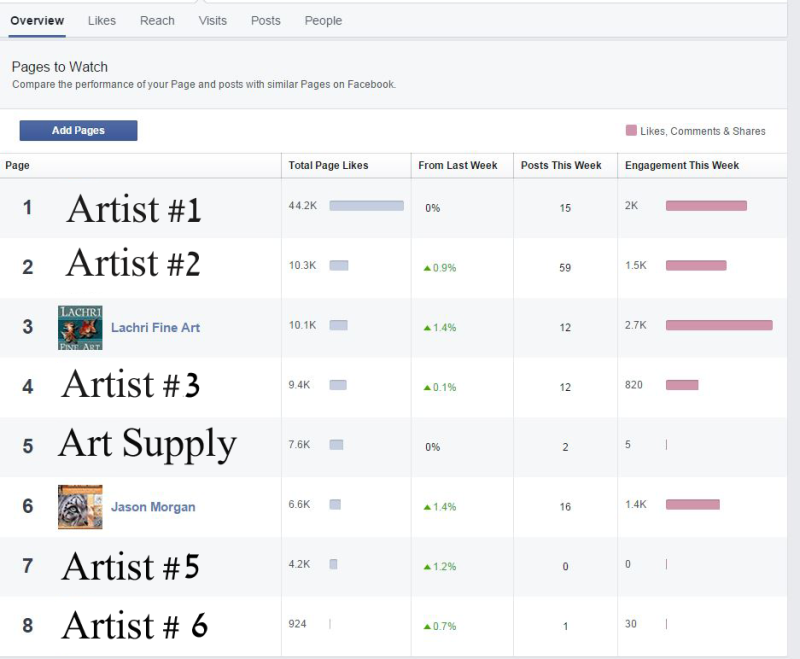 I first want to point out that every single artist on my list is crazy talented so the quality of the artwork is not a major factor of why they are or are not receiving good engagement on their posts.
Artist #1  has a very large number of fans, but when posting about as often as I do, their engagement rates are lower than mine. How is this possible?  They have 30 THOUSAND more fans. Well, I headed over to this artist's page to try and figure out what was going on. Their posts do not usually provide much in the way of value to their fans. They aren't teaching them anything, or offering advice or sharing art products they like that would draw their audience in.  They do complain an awful lot, which definitely turns people away. This artist is also a great example of why numbers don't matter if those numbers are not real fans. I suspect that they paid facebook to promote their page, or that they did a lot of "like 4 like" sort of things in various groups. The artist is very talented, so this is not an issue here at all.
Artist #2 is another very talented artist. At around the same number of followers as me, you would think with 59 posts on the past week that they would have a higher engagement rate than I do. Why don't they? Almost all of their posts are trying to sell something. Prints, originals etc…but none of their posts have that "value" that will engage fans. Plus, because most of their posts are promotional, they are heavily filtered with facebook, and heavily ignored by fans that do see them.  A good rule is to post at least two posts offering value to your fans for every self  promotional post.
Artist # 3 is this girl who talks too fast…wait, nevermind…moving along…
Artist #4 is another of my favorite artists. This person's engagement rates are fairly low considering how many fans they have. The reason here is that the artist early on had a lot of giveaways that they promoted on "free stuff" type facebook groups. This built up their numbers but not their actual fanbase. What does that mean? This artist, as awesome as they are, has a lot of people who liked their page in order to win something for free, but weren't really art fans in general. Was this all bad? Well no, the artist did make some sales because of some of the people who found her through these freebie sites. Having a bunch of people "like" your page who aren't interested in art wouldn't be a bad thing if it weren't how facebook analytics work. Because facebook only shares your posts with a small number of people who liked your page, you don't want those few people to be those who don't even care about your art. If the few people who see your posts are those who don't care, that means they won't comment/like/share. If your post doesn't get many comments/likes/shares from the few fans that facebook shares your post with when it first goes live, then facebook won't share the post with many of your other fans. It's a whole unhappy circle.  Giveaways can be a great way to promote your art and engage your fans, but I would recommend sharing it with people who are interested in your type of art, not just general "get something for free" type groups.
Art Supply Store is an example of a supplier who rarely posts and because of this, their audience just doesn't grow. When they do post, it's almost always self-promotional and no one comments, so the post isn't seen by many. Art suppliers like Liquitex (who I don't have on this list) are a great example of how a business does social media right. They post often, they share their fan's work, they have giveaways, and they post art tips all the time.
Jason Morgan – If you're not watching Jason Morgan's page, you should. He really does a good job of mixing up the self-promotional stuff like painting DVDs with free stuff and art tips. His engagement rate for his fan base reflects those numbers.
Artist #5 I can't really compare because he hasn't posted this week.
Artist #6 is another of my favorite artists. This artist's work is stunning, but they do not post often enough to really grow a social media fan base, and when they do it is more likely to be a post promoting their own work than offering advice or tips.
The purpose of comparing different pages isn't to judge them but to learn from them. What are they doing that does or does not work, and how can you apply these lessons to your own social media presence.