About the Artist
...for those of you so painfully bored you want to read my life history
I was no child art prodigy, but I did spend enough time drawing that by the time I was in my teens I was above average in my drawing skills. The idea that you're born with talent and either "have it or you don't" has always irritated me. I improved because I practiced. A lot! 
To understand how I ended up here we have to go back to tiny me. Yes, at one time I was even shorter than I am now! I know I know, it's hard to believe!
As a kid, I was always sick. Seriously, ALWAYS sick! We weren't aware that I had celiac disease so my immune system was very very bad. We're talking strep throat, scarlet fever, and mono all at the same time bad. Actually, I suspect that awesome Christmas of 1994  is what triggered my fibromyalgia. The point is, being sick so often translated to being indoors drawing and coloring a lot. I was no child art prodigy, but I did spend enough time drawing that by the time I was in my teens I was above average in my drawing skills.  At the time I was obsessed with orcas. I drew them non stop. In ballpoint pen on my homework (if I was going to be terrible at math, I might as well pretty up the paper!), and in charcoal over watercolor. I didn't have the funds to purchase more art supplies, so these kept me busy.
I didn't jump into college like many of my friends did after high school. I didn't feel well enough to both work part time and go to school. One afternoon I was walking around Laguna Beach CA with a friend and we came across this gazebo filled with a woman's dolphin paintings. Her perspective was completely off on all of them. What was even more shocking to me is that she had price tags in the thousands. My thought was "Wait! Mine are better than this! I can make a living drawing whales like I love!!" Go ahead and laugh, I now realize that is SO not how the art world works. I don't regret my naivety though because it sent me on this path.
Mistakes don't mean you've ruined anything, they just mean you're not finished yet! -Lachri
I taught myself to paint through trial and error. LOTS of error. Like most artists, I started by displaying my work in local coffee shops and a small gallery (Angel's Galleria which was located in the Pomona Arts Colony, Pomona CA) within a couple of years. I was working full time at animal hospitals at this point. One day on the way home from working a vaccine clinic, I needed to pick up a frame for a painting that I was delivering to the art gallery that night. Not paying attention (as usual),  I drove right past Aaron brothers where I normally purchased my frames. Looking for the nearest alternative I landed in Michaels in LaVerne Ca. They had a sign looking for art teachers. This is where I started teaching my own art classes in 1999.
All of these chance happenings somehow lead to me living my dream. There was so little planning involved that it took me longer to get here than it should have, but now I get to share what I've learned over the years with other artists who are walking that same path! These days spend my time creating my own paintings and drawings and  making videos teaching and inspiring other artists through my 4 weekly videos on youtube and my weekly tutorials on Patreon.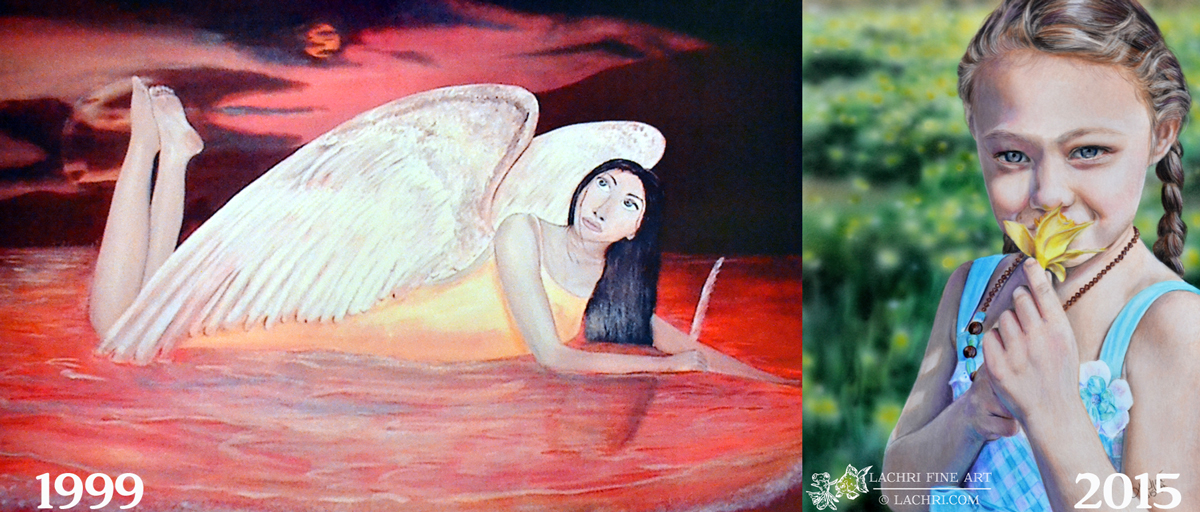 My goal on this angle was to create a realistic portrait. The problem was I couldn't draw or paint people to save my own life! That tiny fact did not make me quit trying to paint realistic portraits. Instead, it made me practice even more! None of us start out terribly good, it's a long process that requires a lot of practice. Don't give up before you hit that end goal!  
"Don't think about making art, just get it done. Let everyone else decide if it's good or bad, whether they love it or hate it. While they are deciding, make even more art." Andy Warhol
For me, art has never been about some elitist idea of the "right" way to create. Instead, I see the value in art for art's sake.
Learning what I did through trial and error, I have a slightly different view on art. For me, art has never been about some elitist idea of the "right" way to create. Instead, I see the value in art for art's sake.
There are just SO many out there who feel that they have the right to others how art should be created, that the tools they use, the methods they use or the style they enjoy working in is wrong. I've seen so many artists discouraged and give up altogether on art because of the absolute ridiculous crap that comes out of some people's mouths.  There is a special place in hell for someone who causes another to give up something they enjoy over their own personal hangups and misconceptions of what they think art should be.
Art can be just about anything you can imagine or enjoy creating!! I don't care about what process, tools or technique someone uses to create something beautiful! It's the end result that matters to me.
Along with my art, I have been a violinist for 30 years. I grew up playing in the Claremont Youth Symphony Orchestra, then played in the Claremont Symphony Orchestra for several years. My absolute favorite classical music comes from the baroque period.
I played in folk bands for several years before all my time started going into making youtube art videos. I still plan to record an album if I can ever come up with some free time. You can hear me play violin both solo and with my last band on many of my older speed paintings and drawing videos on youtube.
In 2000 I married my husband Matt.  Between him, my two silly Italian Greyhounds (one who can be seen in the studio tour below) and my shoulder chicken (cockatiel) I'm pretty much always laughing.
Resume: Lisa Clough "Lachri" Artist, Violinist
Currently sponsored by Fredrix Artist Canvas
Created the artwork for the new Derwent Inktense boxes sold in art supply stores worldwide.
over 300,000 YouTube subscribers
Awarded Website of the Year, Instructor of the Year, & Best YouTube Channel of the Year  by readers of the Colored Pencil Magazine for the 2019 First Annual Colored Pencil Awards
Selected Group Exhibitions
2013-present Art in the Atrium, Frisco, Tx
2012 Red, The Gallery 8680, Frisco, TX
2011 Baylor Hospital staff event, Frisco, Tx
2004 Inland Empire Artists association annual show, Upland, CA
2004 Yorba Linda Art Festival, Yorba Linda, CA
2003 Inland Empire Artists Association Annual Show, Upland, CA
2003 Yorba Linda Art Festival, Yorba Linda, CA
2002 Ontario Art show, Ontario Ca
2002 Catalina Island Art Festival, Catalina, CA
2001 Catalina Island Art Festival, Catalina, CA *award received at this show
2000 Rancho Cucamonga Music and Art Festival, Rancho Cucamonga, CA
1999-2001 Monthly Art walk at the Pomona Arts Colony, Pomona, CA
1999 Angels Galleria, Pomona Arts Colony, Pomona, CA
Publications
January 2019 1st annual colored pencil awards article in the Colored Pencil Magazine
August 2016 article about in the Colored Pencil Magazine
July 2015 Featured artist in the Colored Pencil Magazine
June 2015 article in Ann Kullburg's Color magazine
Promotional poster for "The Hero Chronicles" by author Tim Mettey
Featured in the June 2014 issue of Colored Pencil Magazine
Book Cover art for God's Riches At Christ's Expense by Ronnie Daniels, 2011
CD Cover art for Dallas Band Giant of the Mountain
CD "Awake with Angels EP" by Christian Ross, Dallas Tx
Collections
City of Frisco, Tx
Baylor Hospital, Plano Tx
Paw Print's Pet Hospital, Frisco Tx
Works held in private collections in Canada, The United States, The United Kingdom, Japan, Finland, Norway, Netherlands, and Australia.
Teaching
Presently teaching painting and drawing tutorials through youtube and Patreon.
2008-2016 Painting and Drawing group classes out of Hobby Lobby in Frisco, Tx
2010-2012 Teaching painting classes to groups of 20-40 at Lets Art Party in Plano, Tx
1999-2008 Painting and Drawing group classes out of Michaels Art and Craft stores in LaVerne CA, and Rancho Cucamonga CA