Acrylic Painting Supply List
These are the products I use in my own artwork
(These are the acrylic painting supplies that I personally use. For me, the airbrush is a must-have item for the type of acrylic painting that I use, so I will be including my airbrushing supplies on this list as well. I want to add that these are not the end all of painting supplies, they are just what I personally enjoy working with.
Paints
Varnish
Brushes
The brands aren't as big of a deal for me with the brushes I use.  Many of my current favorites are the generic Masters Touch from Hobby Lobby. They go on sale for half price every few weeks so you can stock up then if you have a Hobby Lobby near you. The Hobby Lobby links are not affiliate links.
These are not the only brushes I use, but they are a great start!
You will want several sizes of each of these brushes.
Canvas
After a lot of bad experiences with generic canvases (most big chain art stores now only carry their own generic canvases and they are absolute crap, warping stretcher bars, badly primed etc), I only use Fredrix canvases now. If you are in North Texas, check out Asel art supplies. They have Fredrix canvases in their stores for half price all the time. This is where I purchase my canvases.  You can purchase them through their website too. This is definitely worth it if you're placing a large order
Miscellaneous 
Airbrush
If you're going to go farther into using the airbrush, then these are some of the supplies I use:
The links on this page (besides Hobby Lobby) are my Amazon affiliate links.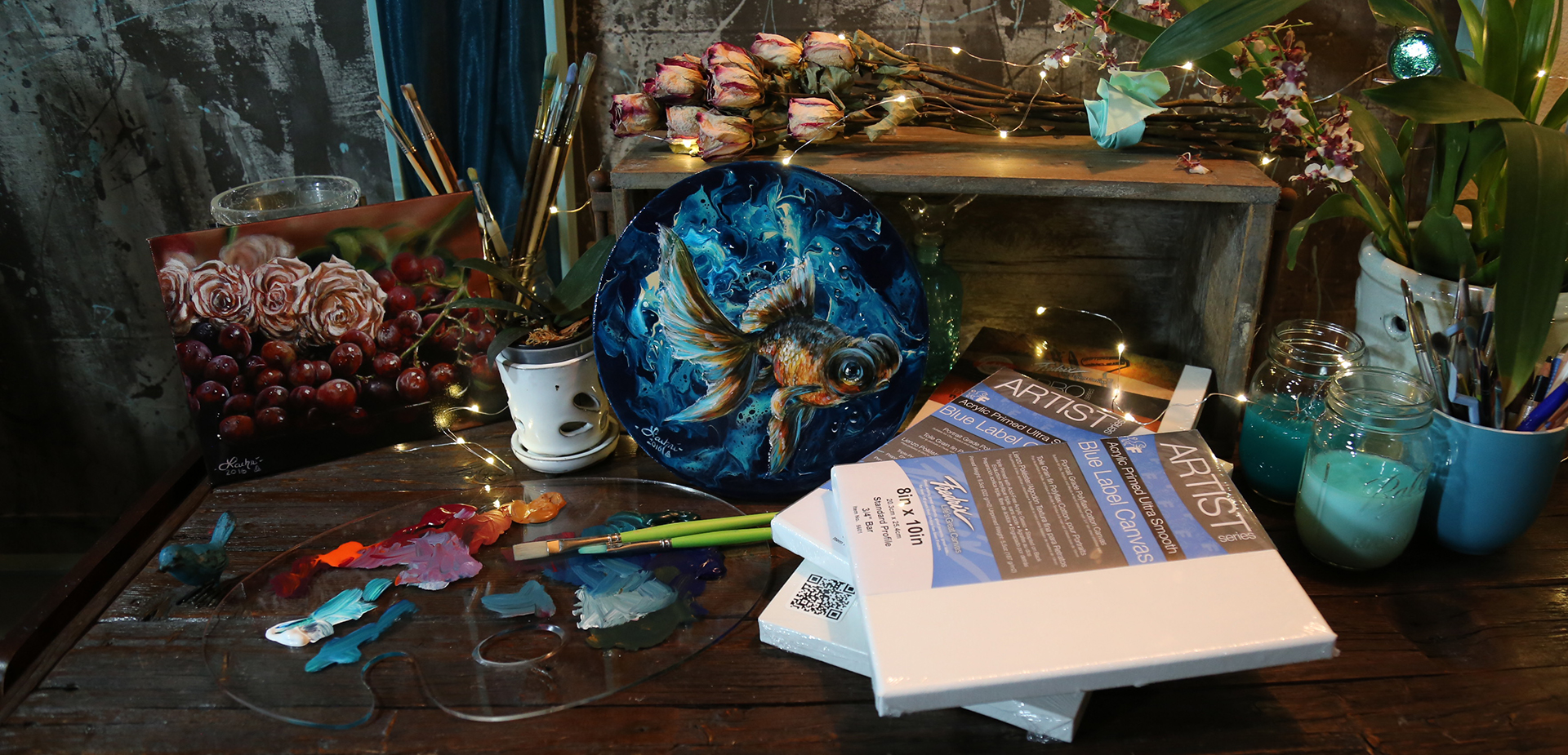 Several years ago I got fed up with poor quality canvases and stopped using anything but Fredrix Artist Canvas. When they later contacted me about a sponsorship I thought it was a perfect fit! I've since had the opportunity to try all sorts of their canvases, everything from gallery wrapped, linen, round, convexo and many more. All that I've used from Fredrix has always been perfect! I really can't imagine using anything else at this point!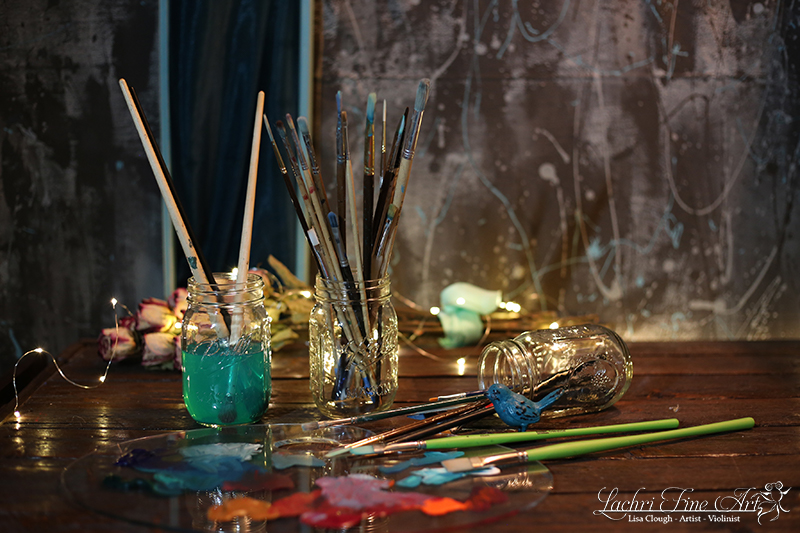 Don't leave your brushes sitting in your paint water! While it may look fancy in the photo above, this is one of the fastest ways to ruin the bristles of your paint brushes. Even a couple of minutes of sitting in water can fray and damage your bristles. To make your brushes last longer, rinse them then lay them flat to dry.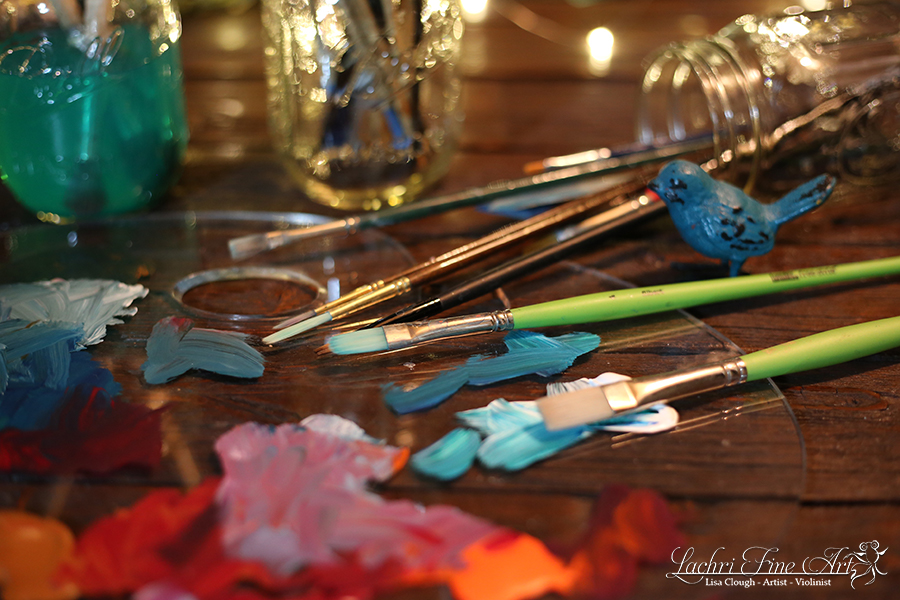 Sooner or later your brushes will get damaged, either by leaving them in the paint water or simply forgetting to clean them properly. Don't throw them away!! Damaged brushes can sometimes create effects you simply can not get with a new brush! Some of my favorite brushes are actually very old damaged brushes.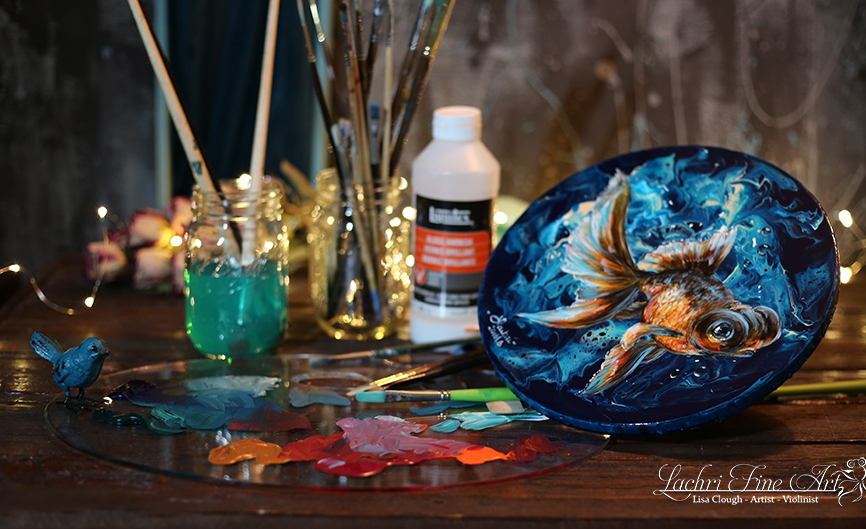 If you like to apply a high gloss varnish to your finished paintings like I do, make sure to take photos of your work BEFORE you varnish! The high gloss makes it very difficult to get good photos of your work because of the glare it can cause.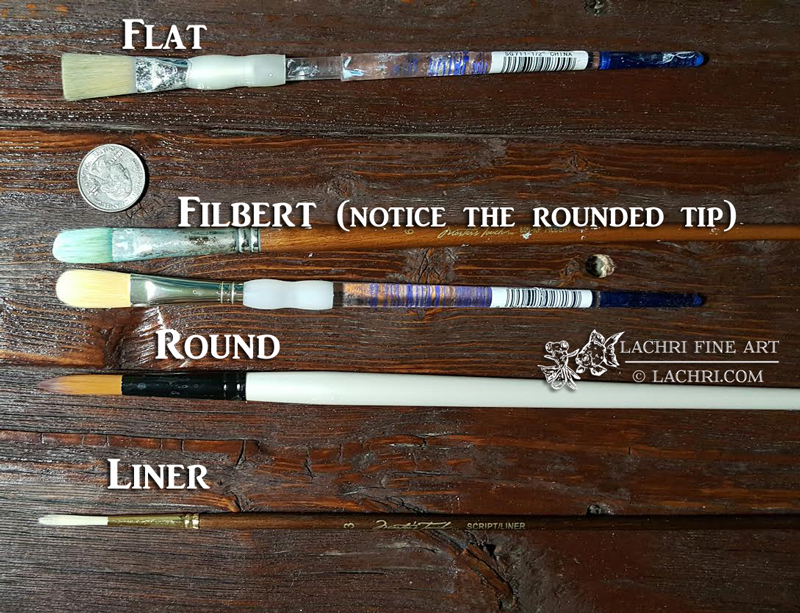 Generally speaking, I avoid brushes with very short bristles. They don't last long and they don't allow you to get nice long brush strokes before having to reload the brush, which can create a rougher look than you may want. The brushes above are all brushes I use myself.