What the heck is Patreon and why do you keep talking about it?! 
Patreon is a website that allows me to offer one to two hour-long weekly painting and drawing tutorials and other artist rewards to a large number of people at a very low cost. It's the perfect platform because we all benefit!  You get to save a lot of money on my weekly art lessons and in turn, you allow me to keep upgrading my equipment, pay rent, and make even more videos. It's an endless cycle of awesome!!
WHAT?! I like rewards!!! What do I get in addition to the tutorials?!
I'm glad you asked (because otherwise this would be the shortest page on my entire website, and that's just sad). You can choose to sign up for the $4/month or $9/month tier each with a different set of rewards! YAY STUFF!
$4/month Rewards
...because everyone likes rewards!
1-2 Hour Long Painting & Drawing Tutorials
When you sign up at $4 or more a month, you get instant access to over 300 of my past 1-2 hour long tutorials plus a new lesson every single week! That is not a typo! There are over 300 videos now available. For $4/month! That is unheard of!!!  These videos are slowed down to real time for some sections and slightly sped up for others where it is more repetitive. I will explain what I'm doing and why I make certain decisions in the process while I work. With these videos being so much slower than my usual youtube videos you will have an easier time understanding my layering, blending and other techniques. These tutorials vary in medium each week. I rotate between Colored Pencil, Acrylic Painting, Oil Painting, Graphite, watercolor, charcoal and Inktense.
5 Royalty Free Reference Photos Each Month
Each month I provide you with 5 reference photos I've taken myself! These photos are usually either wildlife or still life. You can use them in your own paintings or drawings! Make sure you download yours each month because I delete the previous month to make room for the next batch of new photos!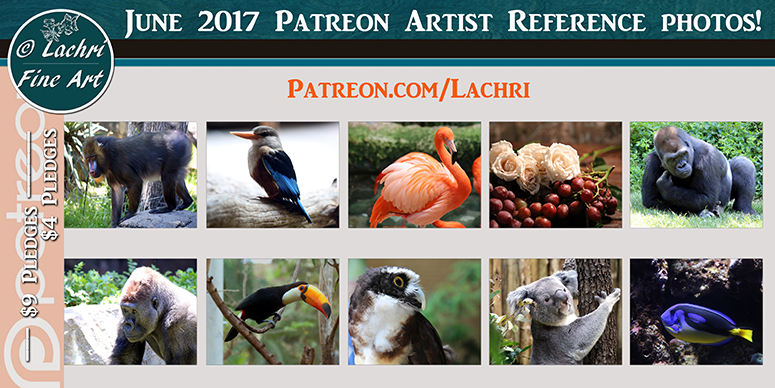 $9/month Rewards
Get all the previous rewards and this;
When pledging $9/month, in addition to the 1-2 hour long weekly tutorials (and don't forget about over 100 past 1-2 hour long tutorials), you also get these extras! 
Postcards!
Each Month you get a new postcard with one of my paintings or drawings printed on it! These postcards are sent the month following the month they are for (September cards go out in October etc).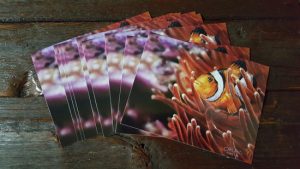 5 Additional Reference Photos
That means you get a total of 10 new reference photos each month!
Monthly Group Art Challenges
 Participate in a monthly art challenge designed to help you grow as an artist. Want extra advice on your art challenge painting or drawing? You will have access to a private facebook or MeWe group only open for those participating in the challenge where you can post photos of your work in progress and/or ask me questions on your art challenge painting/drawing.  
$14/month Rewards
Get all the previous rewards and this;
 When pledging $14/month, in addition to the 1-2 hour long weekly tutorials (and don't forget about over 300 past 1-2 hour long tutorials), 5 additional reference photos (that means 10 total), your postcard,  and  the art challenge,  you also get these extras! 
Coloring Pages!
Each month you get 4 new coloring pages based on my artwork! Sometimes this will be based on that week's art lesson, but when the art lesson is from a reference photo you would need to pay for (like from wildlife reference photos) I will provide another fun coloring page off of past artwork.
Can these coloring pages be used as line art for your actual paintings and drawings? Sure, but I don't recommend it. Let me explain why. 
I've been teaching painting and drawing lessons since 1999. In that time I've found that having students trace their references does help them to improve their drawing skills much faster than freehanding alone. However, I also found that you can hit a point where you're doing too much for the student and you cross the line between helping someone to learn and just doing the work for them.
 If I trace the work for you, you're not learning to draw. You're not learning how to take a reference photo of your own and have that tracing show you things in the reference you wouldn't have otherwise noticed. I feel you're skipping a very valuable step in helping you to improve your own work so that you can take any reference photo and make a beautiful painting from it. 
If you want to use my coloring pages to create practice paintings you can, but you really will learn much more from tracing actual photos than my work. Besides that, the line drawing is not going to be as accurate as a photograph. I may include things that make for a better coloring page but may not be useful in your line art for your paintings. 
Coloring page sample

My cost on all prints from my print site!
I will have a new discount code each month that will give you my cost on any print from my print site https://lachri.pixels.com/
Rights to use any of my animal photos posted on MeWe in your own artwork! 
I regularly post shots of my red eyed tree frogs, saltwater fish, greyhounds and more on my MeWe account. If you follow me there you are welcome at this tier to use any of those photos in your own artwork! I post more tree frog photos than anything else. 
$19/month Rewards
Get all the previous rewards and this;
 When pledging $19/month, in addition to the 1-2 hour long weekly tutorials (and don't forget about over 300 past 1-2 hour long tutorials), your 10 reference photos taken by me, your postcard, the art challenge,  the coloring pages, the discount on prints, and the rights to use my animal photos on social media on your art, you also get these extras! 
Greeting Cards!
Each month you get a matte finish 4.6 x 7.2″  greeting card with one of my paintings or drawings on it! Your postcard will come in the same envelope. Does your mailman often damage your postcards? Here's a great solution! Your postcard will be safe inside the envelope with the greeting card!!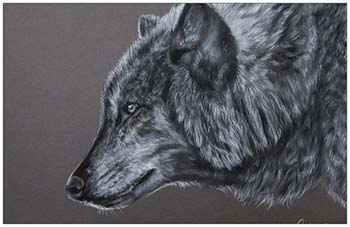 Art Sticker
Each month you will get a new sticker with something art related.
The sample below is 3″ x 2″. 
This sounds like the best deal EVER!! How do I sign up?!
I don't know, one time Starbucks had a buy one get one free deal. It would be hard to top free caffeine, but this comes close!  To get more information and to sign up head over to http://patreon.com/Lachri 
I look forward to seeing you there!! 
Well wait a minute, What if I change my mind?
That's no problem at all! You're free to cancel at any time. I promise this isn't like a gym membership that won't set you free! Patreon makes it very easy to cancel or change your pledge. Just go to your account settings and make any adjustments you like!