Patreon Video Library
An easier way to find the videos you're looking for!
This page is an easy way for you to find all of my available videos! Just click on the link to be taken to that post over on Patreon or Subscribestar! You will need to be logged into your Patreon or Subscribestar account to access the posts. These are all organized by medium 🙂
If you're not already signed up for Patreon, or Subscribestar (same rewards and price, Subscribestar is just an alternative to the Patreon platform) you get access to all of these tutorials, plus a new one every week for as little as $4/month!
The video below is a free sample of my Members Only videos. It is free for everyone to watch! This is best viewed on a computer. If you're watching on a mobile device and it freezes, force the video quality in the player before playback begins. To do this, you can click on the gear icon and choose any quality before hitting play (lower is always safer for mobile).
This reference photo comes from Wildlife Reference Photos. If you want to draw this exact photo you can purchase the photo for your use from their site. Otherwise, you are welcome to use my techniques on your own photo. Pixabay has many free beautiful photos to choose from. 
These are all marked with *OMS if blended with Odorless Mineral Spirits or *Powder Blender if blended with powder blender.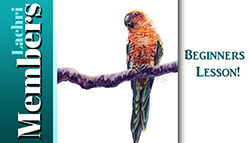 Sun Conure Beginners Colored Pencil *OMS
1 hour 30 min – real time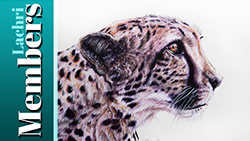 Cheetah Colored Pencil *OMS
2 hours 15 min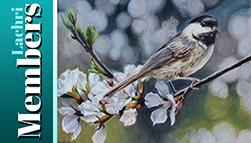 Chickadee in Colored Pencil *OMS
1 hour 56 min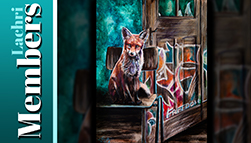 Fox Colored Pencil and Watercolor *OMS
2 hours 58 min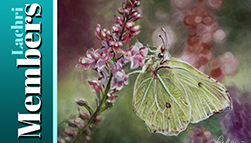 Butterfly in Colored Pencil & Pan Pastels
1 hour 50 min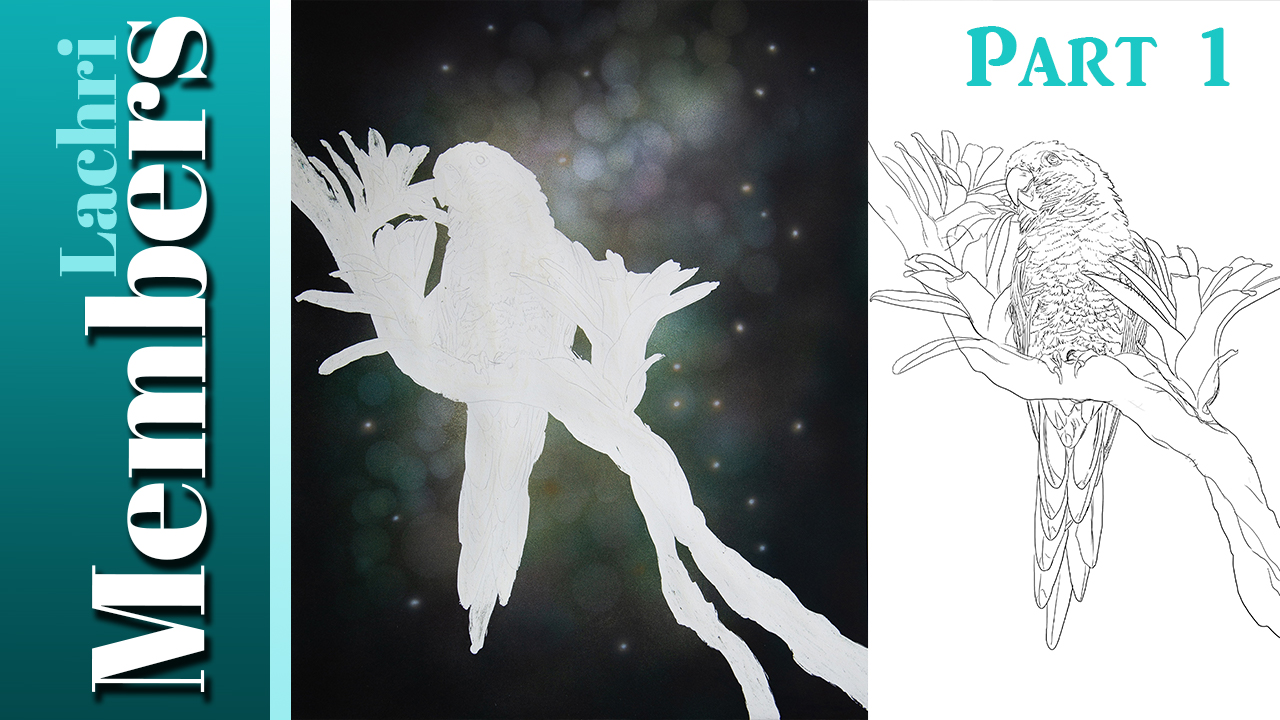 Sun Conure over Airbrushed Background Pt 1
45 min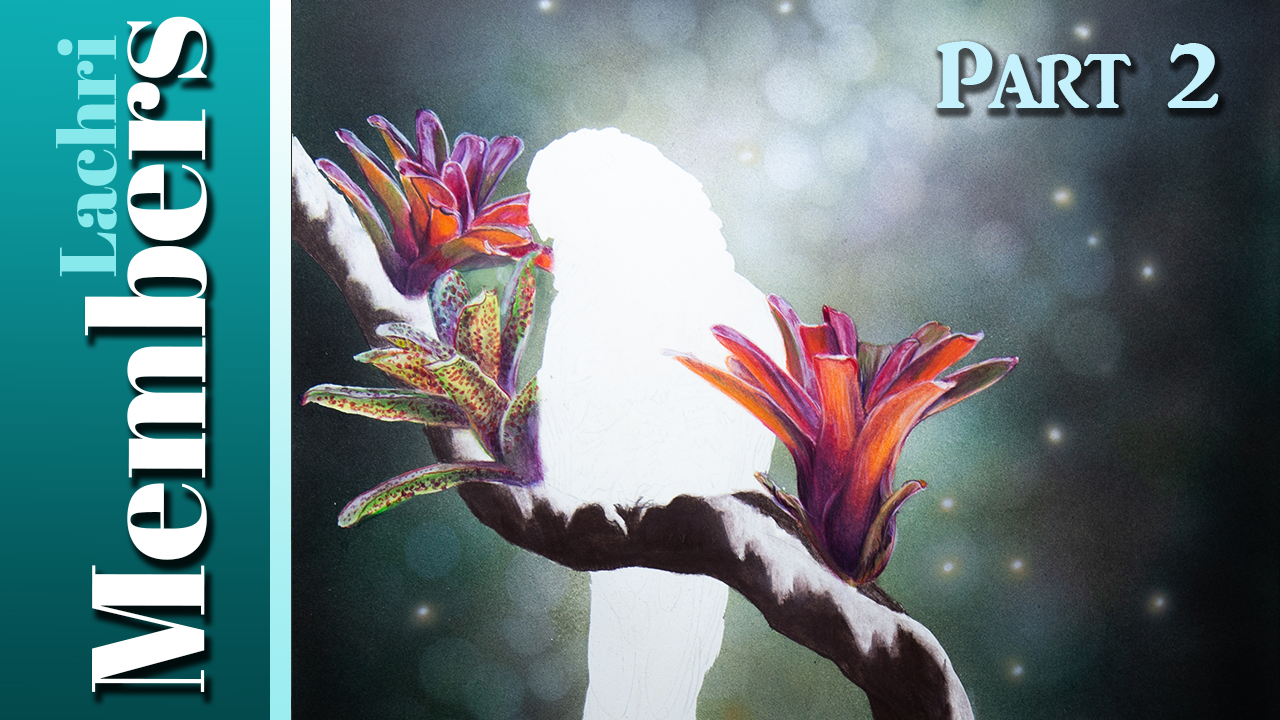 Sun Conure over Airbrushed Background Pt 2
2 hour 1 min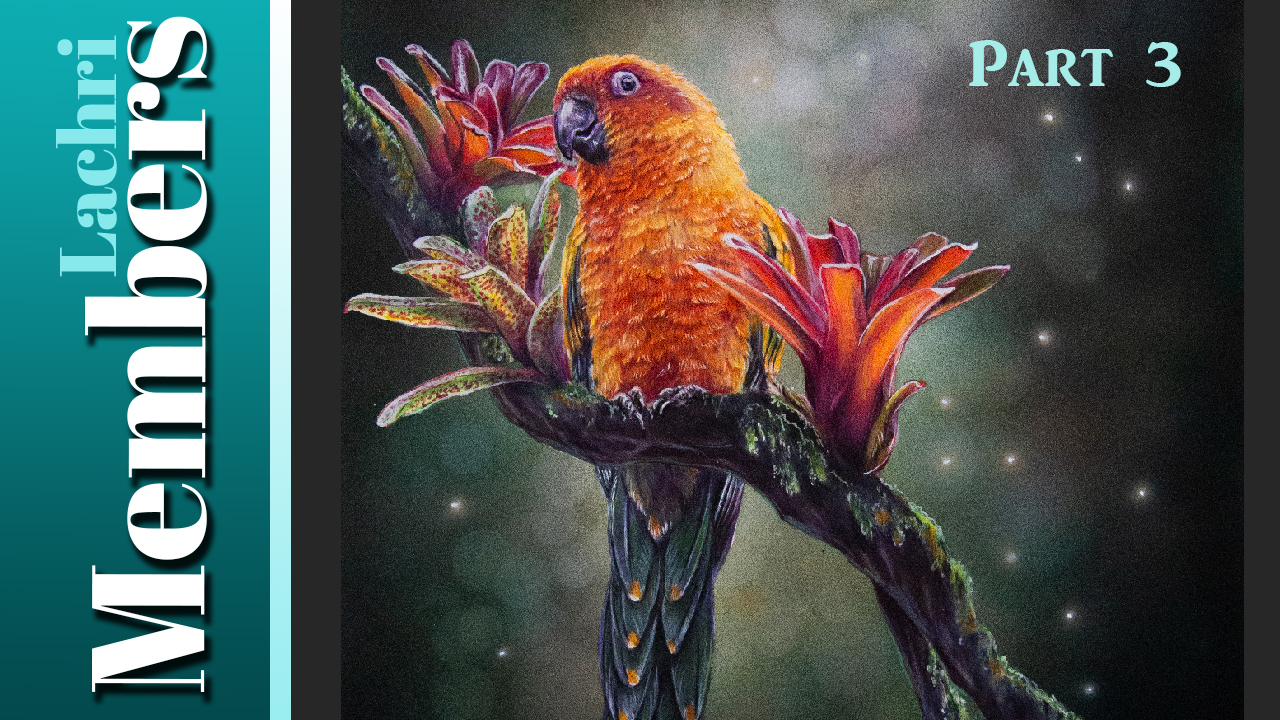 Sun Conure over Airbrushed background Pt 3
2 hours 11 min
Your First Colored Pencil Drawing *OMS
50 min – real time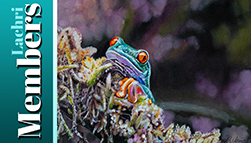 Red Eyed Tree Frog *OMS
2 hours 13 min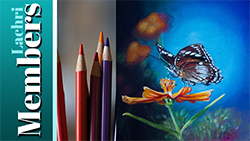 Butterfly in Colored Pencil *Powder Blender
2 hours 20 min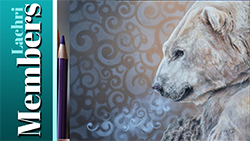 Polar Bear in Colored Pencil / Airbrush *OMS
1 hour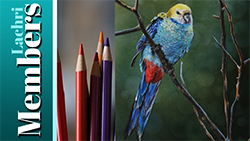 Rosella Colored Pencil w/ Airbrushed Background *OMS
3 hour 12 min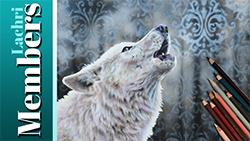 Wolf Colored Pencil w/ Airbrushed Background *OMS
1 hour 56 min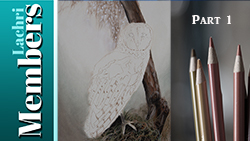 Barn Owl Colored Pencil *Powder Blender
1 hours 13 min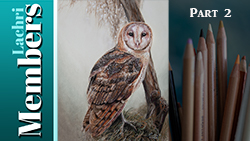 Barn Owl in Colored Pencil *Powder Blender
1 hour 55 min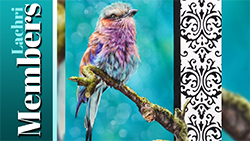 Lilac Breasted Roller in Colored Pencil *OMS 
1 hour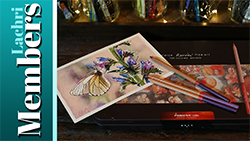 Butterfly in Colored Pencil *OMS 
1 hour 23 min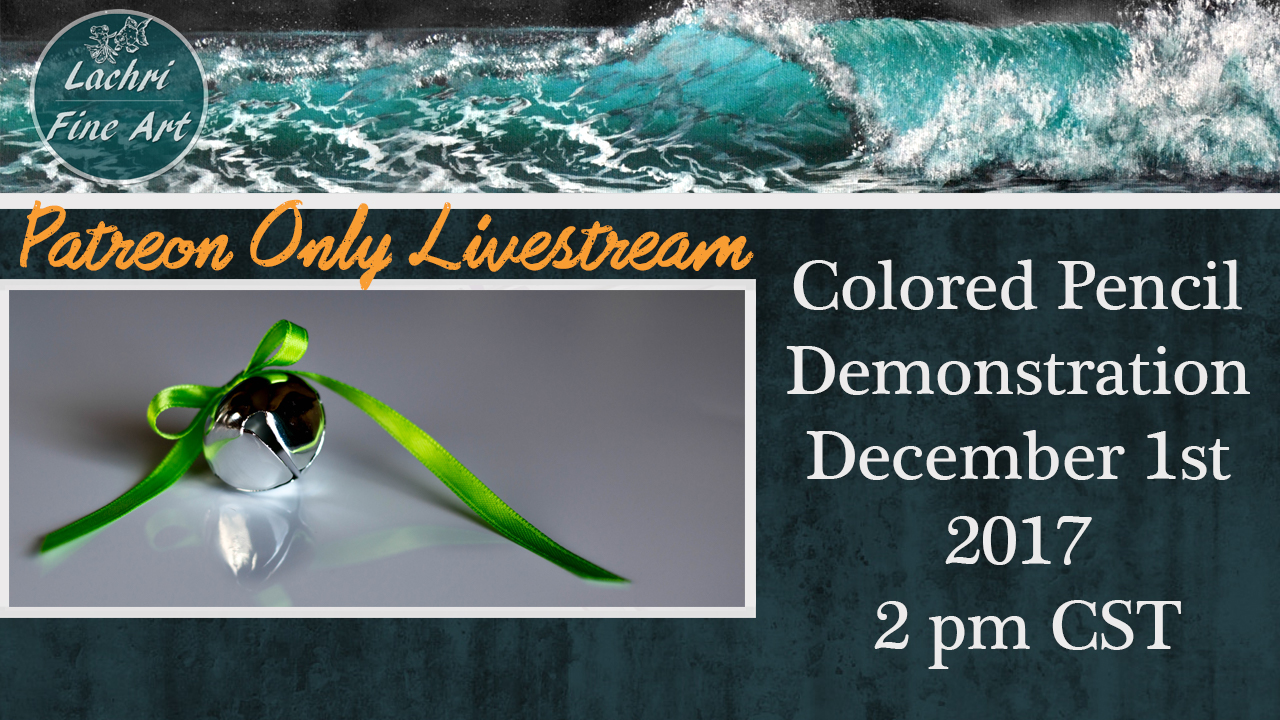 Bell Colored Pencil Livestream *OMS 
2 hours 39 min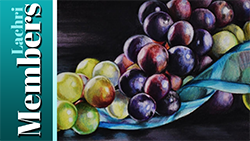 Grapes In Colored Pencil *OMS 
1 hour 59 min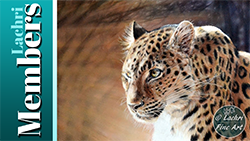 Leopard in Colored Pencil *OMS 
1 hour 26 min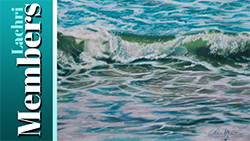 Wave in Colored Pencil *OMS 
2 hour 14 min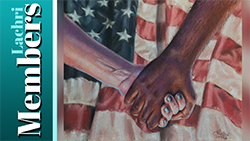 Hands in Colored Pencil *Powder Blender 
2 hours 22 min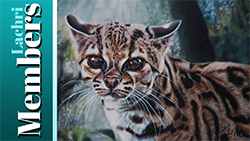 Margay In Colored Pencil *OMS 
2 hours 14 min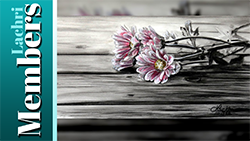 Flower in Water Soluble Graphite and Colored Pencil *OMS 
1 hour 7 min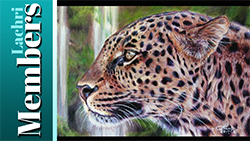 Leopard in Colored Pencil *OMS 
3 hours 30 min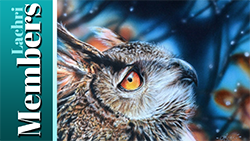 Eagle Owl *OMS 
2 hours 3 min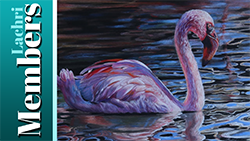 Flamingo In Colored Pencil *Powder Blender
2 hours 11 min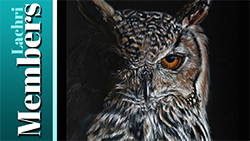 Eagle Owl in Colored Pencil *OMS 
1 hour 51 min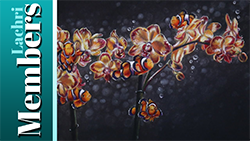 Orchids and Clownfish in Colored Pencil *Powder Blender
2 hours 6 min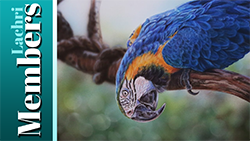 Macaw in Colored Pencil w/ Airbrushed Background *OMS 
3 hours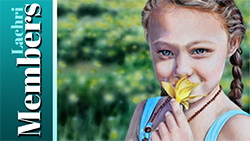 Portrait in Colored Pencil w/ Airbrushed Background *OMS
2 hours 1 min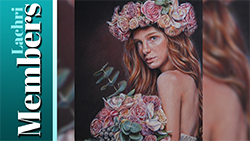 Flower Girl In Colored Pencil Part 1 *Powder Blender
2 hours 12 min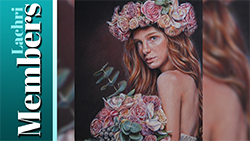 Flower Girl In Colored Pencil Part 2 *Powder Blender
2 hours 24 min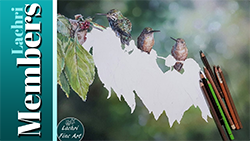 Hummingbirds in Colored Pencil w/ Airbrushed Background Part 1 *OMS 
1 hour 55 min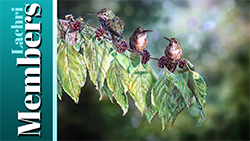 Hummingbirds in Colored Pencil w/ Airbrushed Background Part 2 *OMS 
2 hours 8 min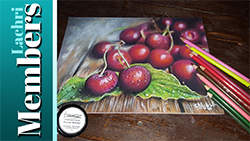 Cherries in Colored Pencil  *Powder Blender
2 hours 10 min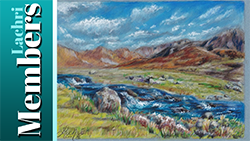 Landscape in Colored Pencil *OMS
1 hours 12 min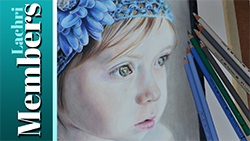 Little Girl in Colored Pencils *OMS 
2 hours 3 min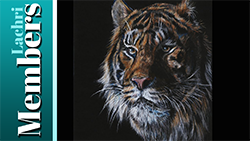 Tiger in Colored Pencil *OMS 
1 hour 11 min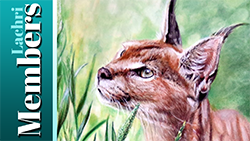 Caracal in Colored Pencil *Powder Blender
2 hours 6 min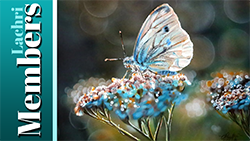 Butterfly w/ Airbrushed Background in Colored Pencil*OMS
1 hours 19 min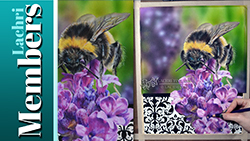 Bee w/ Airbrushed Background in Colored Pencil*OMS
1 hours 57min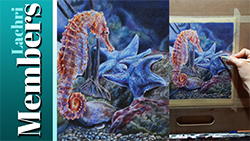 Seahorse in Colored Pencil *OMS 
2 hours 3 min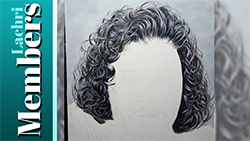 Drawing Hair in  Colored Pencil Part 1 *OMS
2 hours 1 min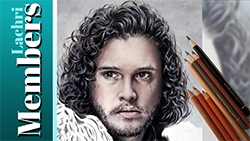 Drawing a face in Colored Pencil*OMS
2 hours 8 min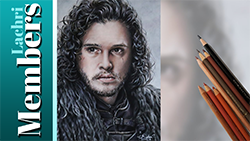 Fur and Leather clothing in Colored Pencil *OMS
2 hours 3 min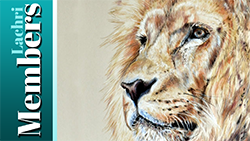 Lion Colored Pencil *OMS 
2 hours 7 min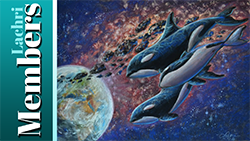 Orcas in Colored Pencil *Powder Blender
1 hour 13 min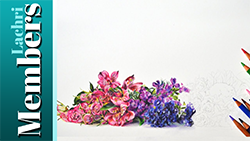 Flowers in Colored Pencil Part 1*OMS
1 hour 48 min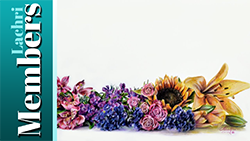 Flowers in Colored Pencil Part 2 *OMS
2 hours 6 min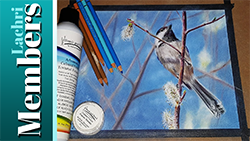 Chickadee in Colored Pencil *Powder Blender 
1 hour 8 min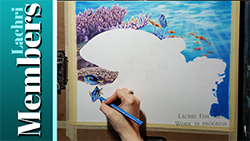 Sea Turtle in Colored Pencil Part 1 *OMS
2 hours 6 min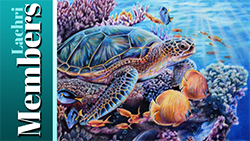 Sea Turtle in Colored Pencil Part 2 *OMS
2 hours 13 min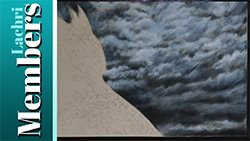 Great Horned Owl – Drawing Clouds in Colored Pencil Part 1 *OMS
1 hour 51 min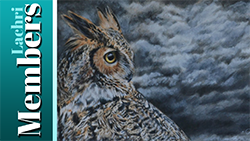 Great Horned Owl in Colored Pencil Part 2 *OMS 
2 hours 3 min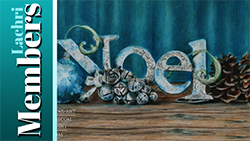 Christmas Colored Pencil *OMS
1 hour 59 min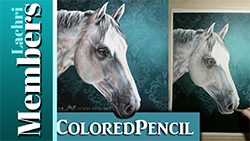 Horse in Colored Pencil w/ Airbrushed Background *OMS
1 hour 55 min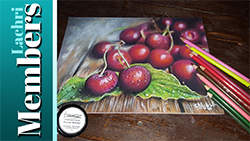 Cherries in Colored Pencil *OMS
1 hour 3 min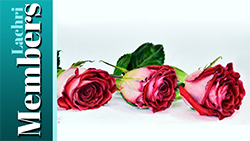 Roses in Colored Pencil *OMS 
1 hour 56 min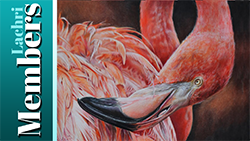 Flamingo Colored Pencil *OMS
2 hour 11 min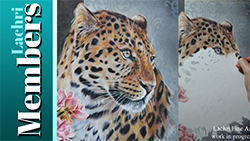 Leopard in Colored Pencil w/ Airbrushed Background *OMS
1 hour 59 min
Snow Owl in Colored Pencil *OMS
1 hour 58 min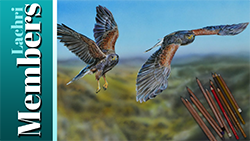 Hawks in Colored Pencil *OMS 
1 hour 54 min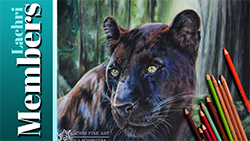 Black Leopard Colored Pencil *OMS
2 hour 2 min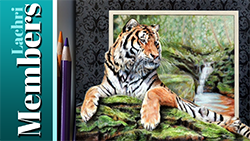 Tiger Colored Pencil *OMS
3 hour 27 min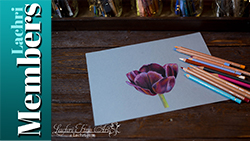 Tulip Livestream Colored Pencil *OMS
3 hour 5 min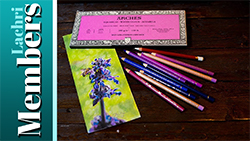 Bee and Flowers Colored Pencil *OMS
2 hour 3 min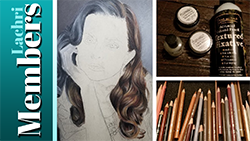 Portrait Colored Pencil Pt 1 – Powder Blender
1 hour 26 min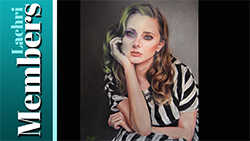 Portrait in Colored Pencil Pt 2 – Powder Blender
2 hour 24 min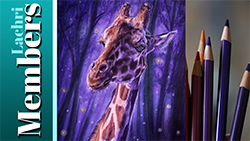 Giraffe in Colored Pencil *OMS
2 hour 27 min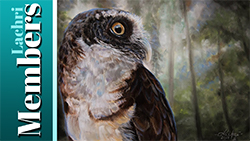 Owl in PanPastels & Colored Pencil 
1 hour 56 min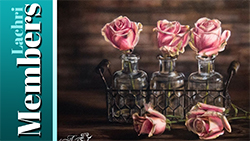 Roses in Airbrush & Colored Pencil
2 hour 22 min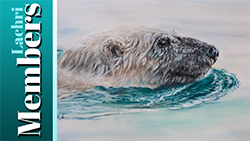 Polar Bear in PanPastels and Colored Pencil
1 hour 34 min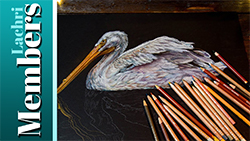 Pelican in Colored Pencil Pt 1 *OMS
1 hour 53 min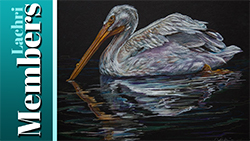 Pelican in Colored Pencil Pt 2 *OMS
1 hour 6 min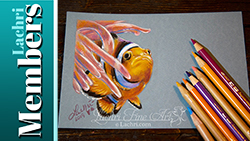 Clownfish livestream in Colored Pencil *OMS
2 hour 22 min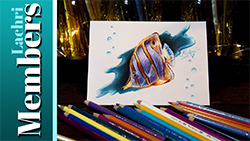 Copper Banded Butterfly Fish in Colored Pencil *OMS
1 hour 32 min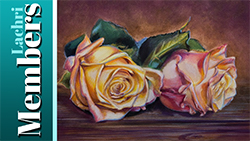 Yellow Roses in Colored Pencil *OMS
2 hours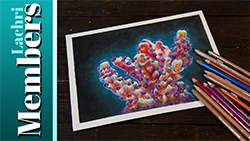 Coral in Colored Pencil *OMS
2 hours 29 min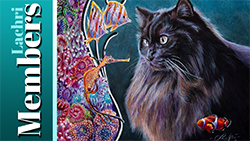 Coral & Cat – Part 1- Colored Pencil *OMS
2 hour 18 min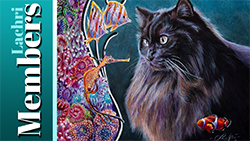 Coral & Cat -Part 2 –  Colored Pencil *OMS
2 hour 3 min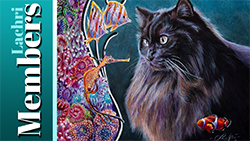 Coral and Cat – Part 3 – Colored Pencil *OMS
1 hour 33 min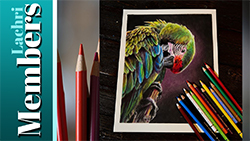 Macaw 12 colors  Colored Pencil *OMS
2 hour 4 min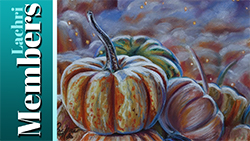 Pumpkins Colored Pencil *Powder Blender
2 hour 9 min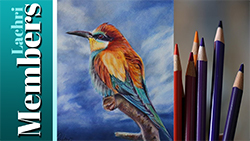 Bee Eater  in Colored Pencil *OMS
2 hour 6 min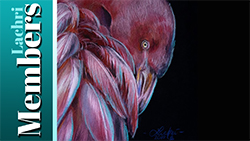 Flamingo in Colored Pencil *OMS
1 hour 48 min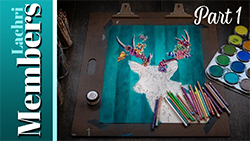 Surreal Deer  Colored Pencil Pt 1 *Powder Blender
1 hour 42 min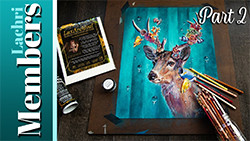 Surreal Deer in Colored Pencil Pt 2 *Powder Blender
1 hour 59 min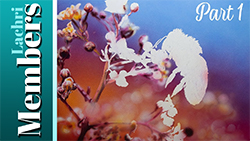 Bee in  Colored Pencil over an Airbrushed Background Pt 1 *OMS
1 hour 59 min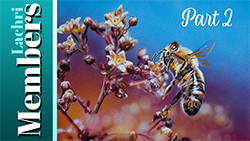 Bee in  Colored Pencil over an Airbrushed Background Pt 2 *OMS
2 hour 27 min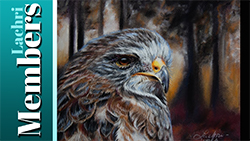 Hawk in  Colored Pencil *Powder Blender
2 hour 15 min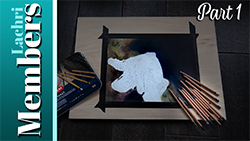 Octopus in Colored Pencil  Pt 1 *OMS
1 hour 14 min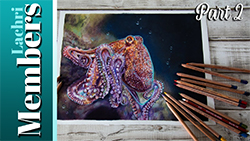 Octopus in Colored Pencil Pt 2 *OMS
2 hour 5 min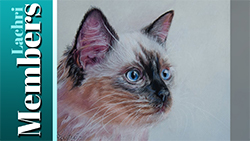 Kitten in Colored Pencil Pt 2 *OMS
2 hour 10 min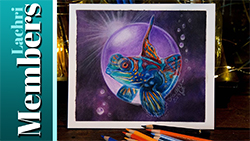 Mandarine Fish in Colored Pencil *OMS
1 hour 53 min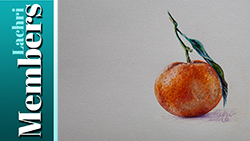 Orange in Colored Pencil *OMS
1 hour 15 min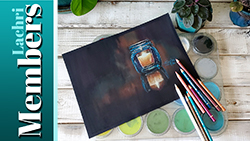 Candle in Colored Pencil & Pan Pastels  
49 min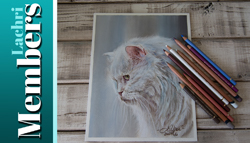 Cat in Colored Pencil & Pan Pastels  
1 hour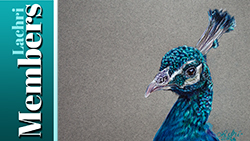 Peacock  in Colored Pencil *OMS
1 hour 43 min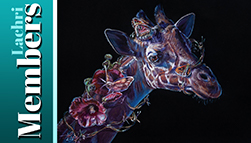 Giraffe in Colored Pencil – Part 1 *OMS
1 hour 47 min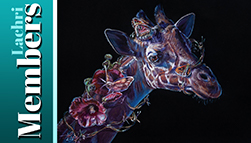 Giraffe in Colored Pencil – Pt 2 *OMS
2 hours 59 min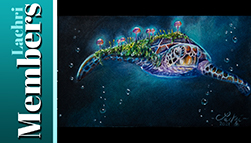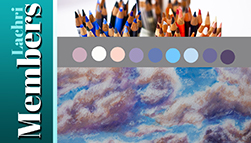 Clouds  in Colored Pencil *OMS
1 hour 23 min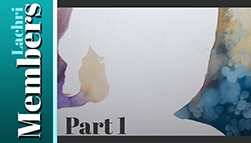 Bokeh Background in Colored Pencil – Part 1 *OMS
59 min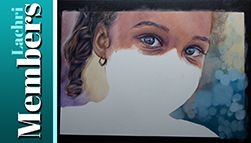 Portrait in Colored Pencil – Pt 2 *OMS
1 hours 57 min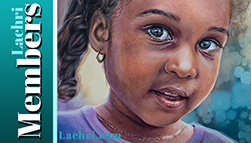 Portrait in Colored Pencil – Pt 3 *OMS
2 hours 32 min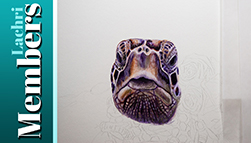 Surreal Sea Turtle & Roses Pt 1  *OMS
1 hour 22 min
Surreal Sea Turtle & Roses Pt 2  *OMS
1 hour 46 min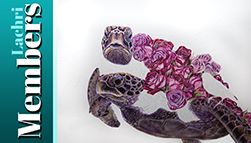 Surreal Sea Turtle & Roses Pt 3  *OMS
3 hours 53 min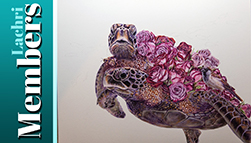 Surreal Sea Turtle & Roses Pt 4  *OMS
2 hours 4 min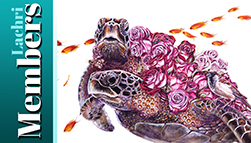 Surreal Sea Turtle & Roses Pt 5 *OMS
53 min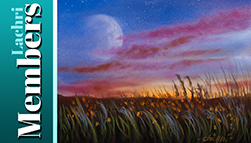 Pan Pastel and Colored Pencil Landscape
31 min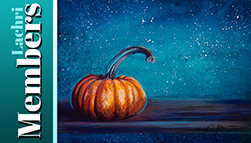 Pumpkin in Watercolor & Colored pencil *OMS
47 min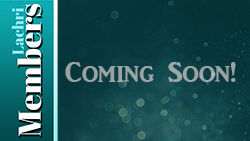 Coming Soon
2 hours 32 min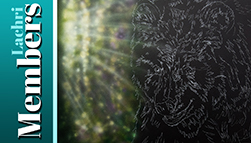 Bear in Acrylics Pt 1 – Background
38 min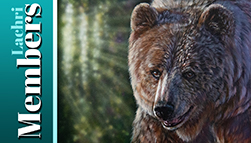 Bear in Acrylics Part 2 
2 hour 11 min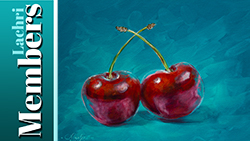 Cherries in Acrylics
1 hours 19 min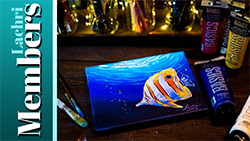 Your First Acrylic Painting
1 hours 17 min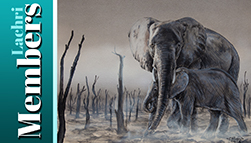 Elephants in Acrylics 
2 hour 38 min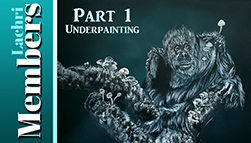 Orangutan in Acrylics Part 1 – underpainting
1 hour 16 min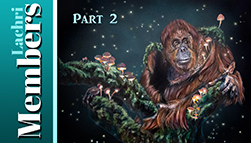 Orangutan in Acrylics Pt 2 – Glazing
2 hours 12 min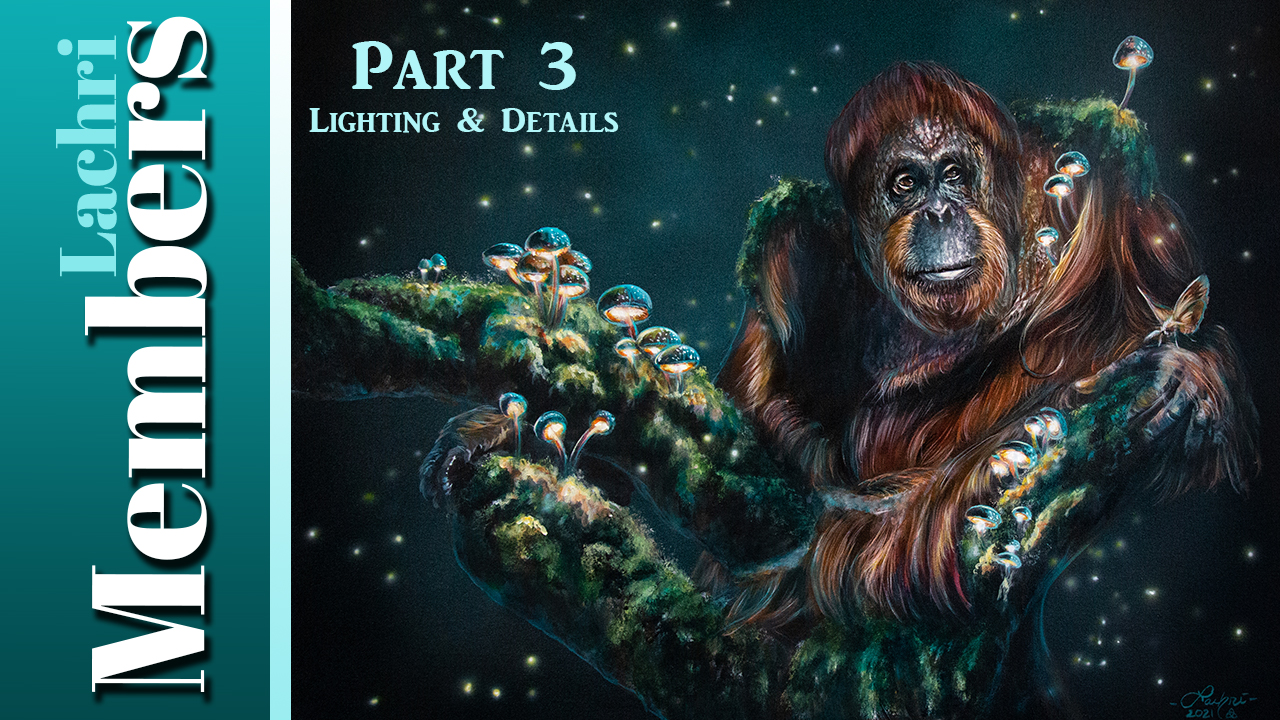 Orangutan in Acrylics Pt 3 – Final details and Lighting
1 hour 19 min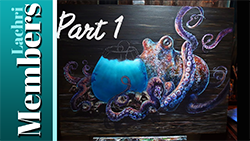 Octopus in Acrylics & Airbrush 
1 hour 43 min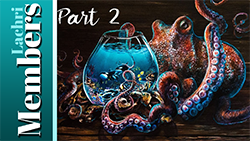 Octopus in Acrylics Part 2 
1 hour 57 min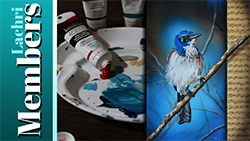 Western Scrub Jay in Acrylics
2 hours 9 min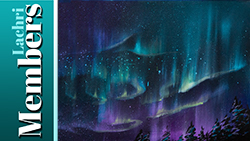 Easy Northern Lights Acrylic Painting
19 min – real time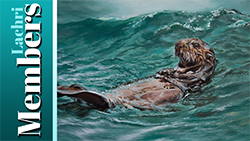 Sea Otter – Part 1, Painting Realistic Water 
3 hours 3 min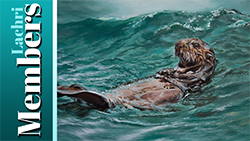 Sea Otter – Part 2, Painting the Otter 
2 hours 8 min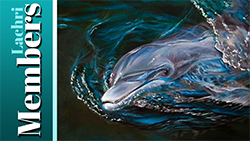 Dolphin in Oil over Acrylics
2 hour 10 min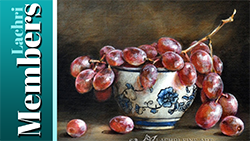 Glazing Grapes in Acrylics 
1 hour 2 min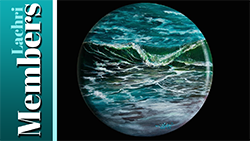 Wave in Acrylics 
1 hour 21 min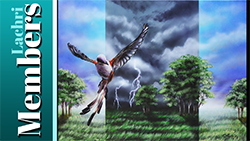 Surreal Acrylic Painting 
1 hour 52 min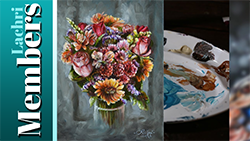 Flowers in Oil over Acrylics 
2 hour 14 min
Surreal Turtle Acrylic Painting
1 hour 32 min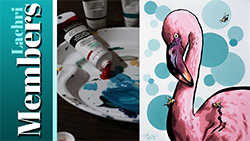 Pop Art Flamingo in Acrylics 
1 hours 13 min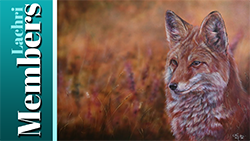 Fox Acrylic Painting 
2 hours 11 min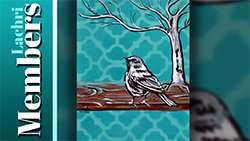 Real Time Pop Art Chickadee Acrylics 
21 minutes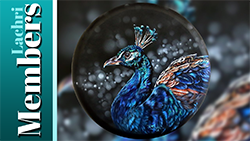 Peacock Acrylic Painting
1 hour 36 min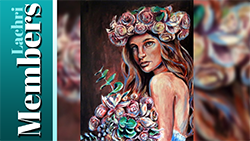 Flower Girl in Acrylics 
1 hours 13 min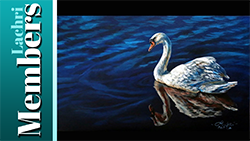 Swan Acrylic Painting 
1 hour 26 min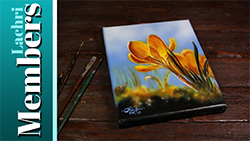 Yellow Flower in Acrylics 
1 hour 16 min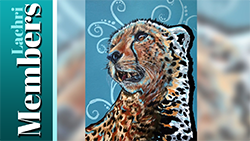 Cheetah Acrylic Painting
1 hour 30 min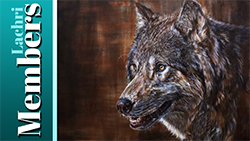 Wolf in  Acrylics 
1 hours 45 min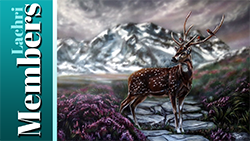 Deer Acrylic Painting 
2 hours 8 min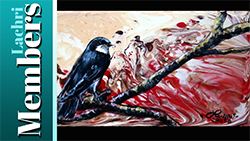 Bird in Acrylics and Pouring Medium
49 min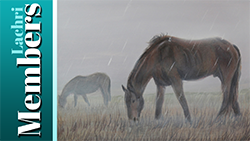 Horses in Fog & Rain Acrylic Painting
1 hour 4 min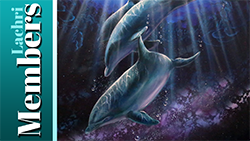 Surreal Dolphins in Space Acrylics 
1 hours 17 min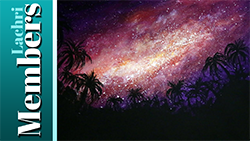 Real Time Galaxy Acrylic Painting 
29 min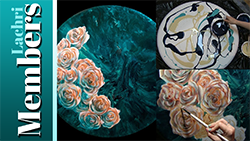 Roses & goldfish in Acrylics and Pouring Medium Part 1
1 hour 30 min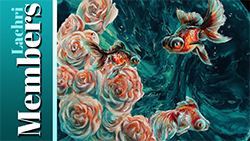 Roses & goldfish in Acrylics and Pouring Medium Part 2
1 hour 1 min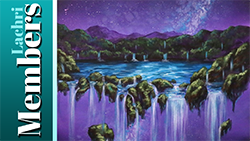 Surreal landscape in Acrylics 
51 min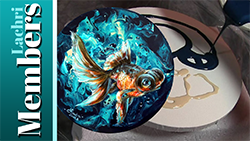 Goldfish Pouring Medium  Acrylic Painting 
1 hour 8 min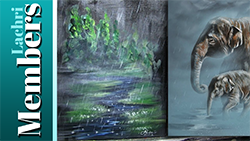 How to Paint Rain in Acrylics
48 min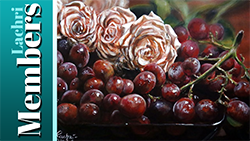 Grapes and Roses in Acrylics
1 hour 11 min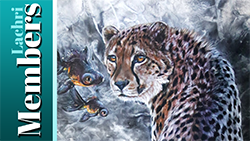 Cheetah and Goldfish in Acrylics 
2 hours 3 min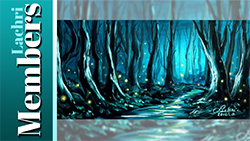 Real Time Firefly Forest  Acrylic Painting 
40 min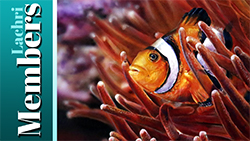 Clownfish in Acrylics
1 hour 50 min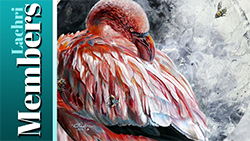 Flamingo in Acrylics
2 hours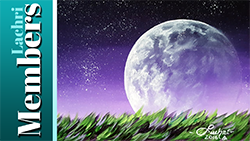 Real Time Moon in Acrylics 
19 min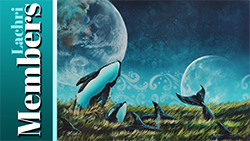 Surreal Orca  Acrylic Painting 
1 hour 7 min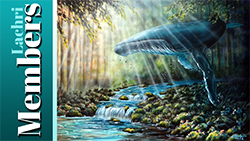 Surreal Forest in Acrylics
1 hour 14 min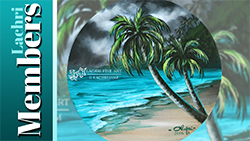 Beach in Acrylics
1 hour 2 min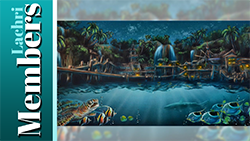 Booty Bay in Acrylics 
1 hour 8 min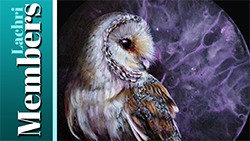 Barn Owl Oil over Acrylic Painting 
1 hour 5 min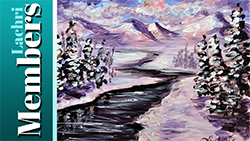 Winter Landscape in Acrylics
33 min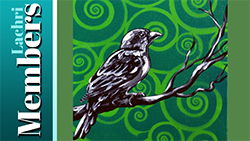 Pop Art Bird in Acrylics
18 min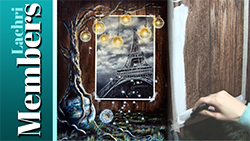 Paris in Acrylics 
1 hour 6 min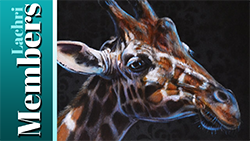 Giraffe Oil over Acrylic Painting 
1 hour 5 min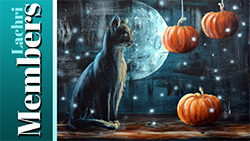 Black Cat in Acrylics
1 hour 3 min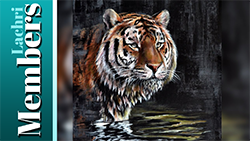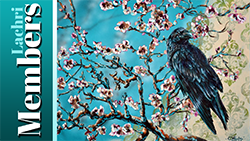 Van Gogh Remake in Acrylics 
1 hour 11 min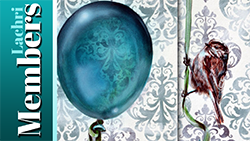 Balloon and Bird Acrylic Painting 
55 min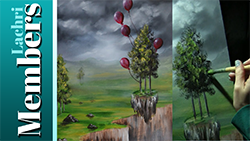 Simple Surreal Painting in Acrylics
1 hour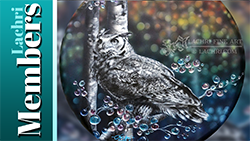 Owl in Acrylics
1 hour 7 min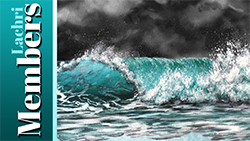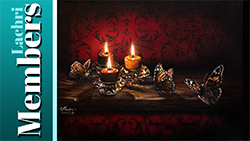 Butterflies and Candles in Acrylics 
1 hour 19 min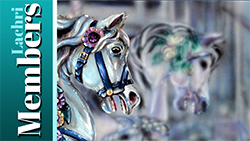 Carousel Horse in Acrylics & Airbrush 
2 hour 29 min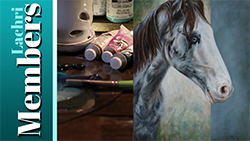 Horse in Oil over Acrylics 
1 hour 32 min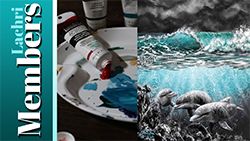 Dolphins in Acrylics 
1 hour 19min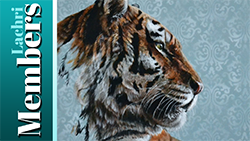 Tiger & Damask in Acrylics 
1 hour 15 min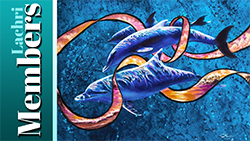 Dolphins in Acrylics
1 hour 37 min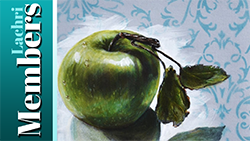 Green Apple in  Acrylics 
1 hour 32 min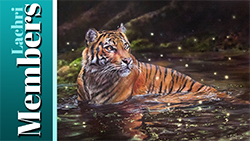 Tiger Firefly Acrylic Painting 
2 hour 49 min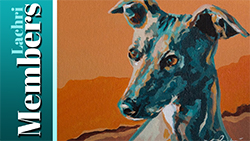 Pop Art Style Acrylic Painting 
56 min (real time) w/ bonus photoshop lesson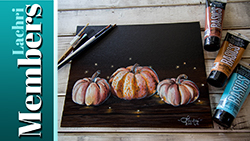 Pumpkin Acrylic Painting Livestream
3 hour 5 min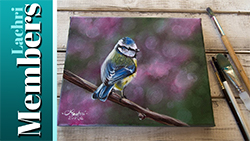 Bokeh Acrylic Painting 
1 hour 17 min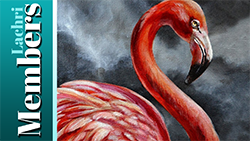 Flamingo Acrylic Painting 
1 hour 17 min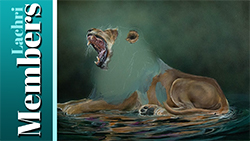 Surreal Lion Acrylic Painting Pt 1
1 hour 46 min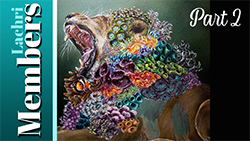 Surreal Lion Acrylic Painting Pt 2
2 hour 8 min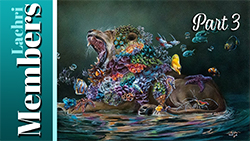 Surreal Lion Acrylic Painting Pt 3
2 hour 8 min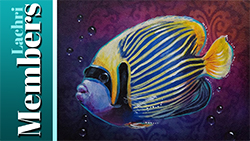 Emperor Angelfish  Acrylic Painting 
49  min – real time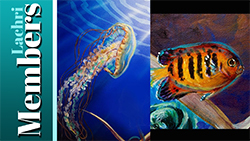 Jellyfish & Flame Angel Acrylic Painting Pt 1
42 min – real time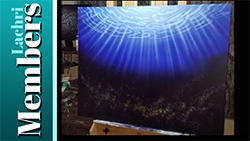 How to paint a smooth background – Acrylics
43 min – real time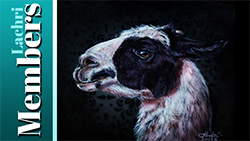 Llama Acrylic Painting
1 hour 15 min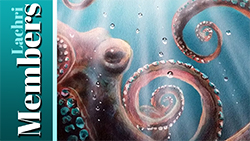 Octopus Acrylic Painting 
1 hour 18 min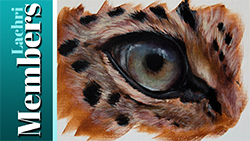 Leopard Eye Acrylic Painting 
1 hour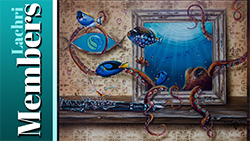 Surreal Marine Acrylic Painting Pt 1
1 hour 44 min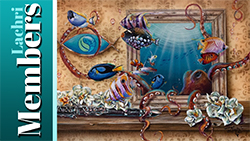 Surreal Marine Acrylic Painting Pt 2 
1 hour 40 min 
Aquashella Fish Acrylic Painting 
2 hours 12 min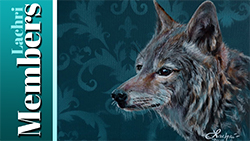 Coyote Acrylic Painting 
1 hour 34 min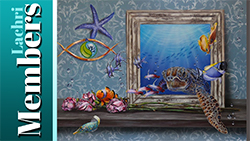 Sea Turtle Acrylic Painting 
1 hour 34 min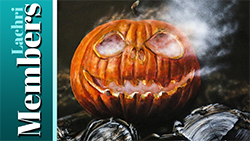 Jack O Lantern Acrylic Painting 
2 hours 11 min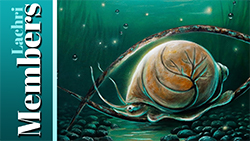 Glow Snail Acrylic Painting 
1 hour 34 min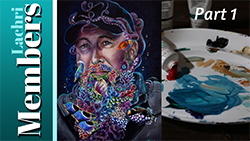 Surreal Coral Portrait Acrylic Painting Pt 1
1 hour 56min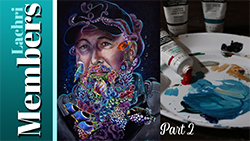 Surreal Coral Portrait Acrylic Painting Pt 2
2 hour 19 min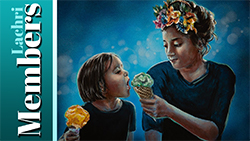 Ice Cream Portrait Acrylic Painting 
1 hour 50 min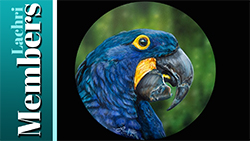 Macaw Acrylic Painting 
2 hours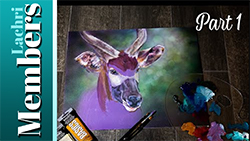 African Bongo Part 1 Acrylic Painting 
2 hours 9 min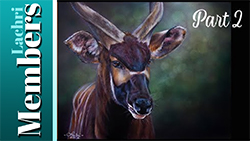 African Bongo Part 2 Acrylic Painting 
1 hour 43 min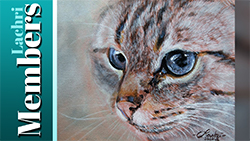 Cat Acrylic Painting 
1 hour 54 min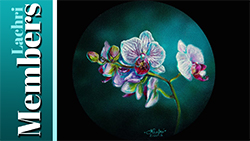 Orchid Acrylic Painting 
2 hours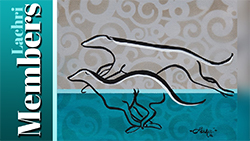 Greyhound Acrylic Painting 
26 min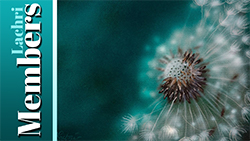 Dandelion Acrylic Painting 
47 min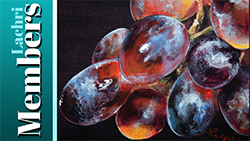 Grapes Acrylic Painting 
30 min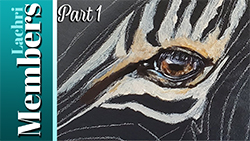 Zebra Acrylic Painting Pt 1
32 min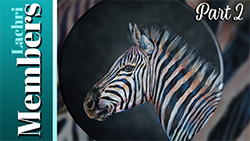 Zebra Acrylic Painting Pt 2 
1 hour 25 min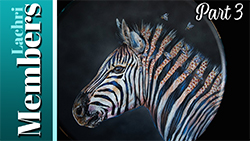 Zebra Acrylic Painting 
40 min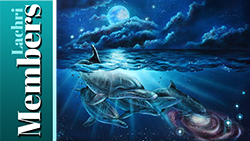 Spotted Dolphins Acrylic Painting 
1 hour  28 min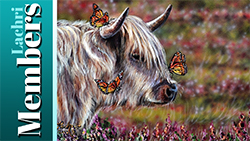 Highland Cow Acrylic Painting
2 hours 18 min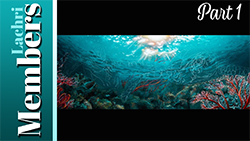 Sea Turtle Acrylic Painting Pt 1 
1 hour 34 min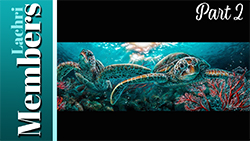 Sea Turtle Acrylic Painting Pt 2
2 hours 9 min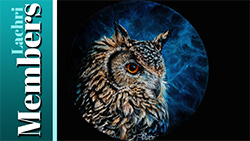 Owl Oil over Acrylic Painting
2 hours 37 min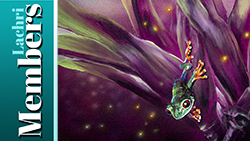 Red Eyed Tree Frog Acrylic Painting
1 hour 10 min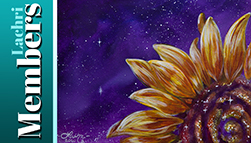 Sun & Stars Acrylic Painting 
Real Time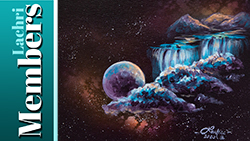 Surreal Waterfall Acrylic Painting
Real Time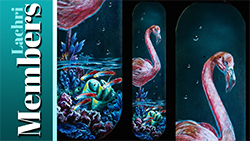 Flamingo on Skateboard Acrylic Painting 
1 hour 42 min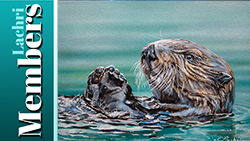 Sea Otter Acrylic Painting – Pt 1
1 hour 43 min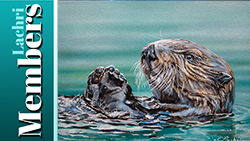 Sea Otter Acrylic Painting Pt 2
1 hour 49 min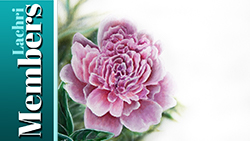 Flamingo on Skateboard Acrylic Painting 
1 hour 42 min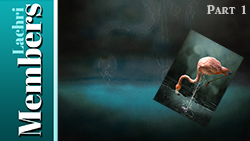 Surreal Flamingo Acrylic Painting Pt 1
23 min  real time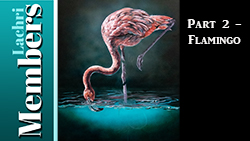 Surreal Flamingo Acrylic Painting Pt 2
2 hour 17 min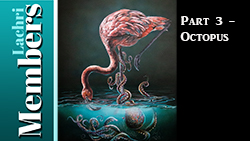 Surreal Flamingo Acrylic Painting Pt 3
1 hour 13 min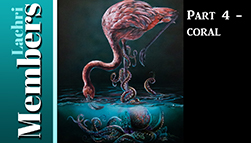 Surreal Flamingo Acrylic Painting Pt 4
31 min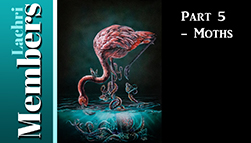 Surreal Flamingo Acrylic Painting Pt 5
31 min  real time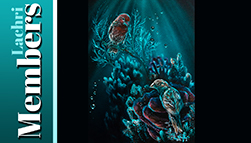 Surreal Coral and House Finch Acrylic Painting 
1 hour 57 min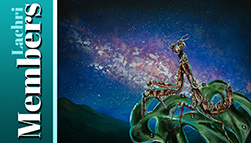 Praying Mantis Acrylic Painting  
1 hour 5 min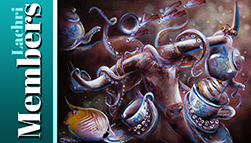 Bull in a China Shop Acrylic Painting 
1 hour 40 min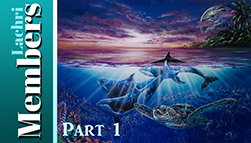 Surreal Marine Acrylic Painting Pt 1
1 hour 57 min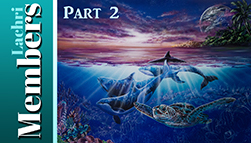 Surreal Marine Acrylic Painting Pt 2
1 hour 59 min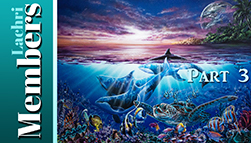 Surreal Marine Acrylic Painting Pt 3
2 hour 4 min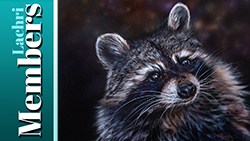 Raccoon Acrylic Painting
3 hour 8 min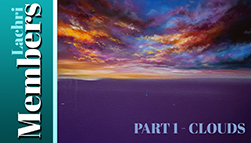 Clouds Acrylic Painting – Orcas Pt 1
1 hour 30 min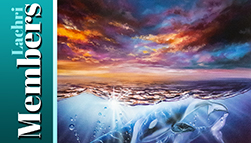 Water Surface Acrylic Painting – Orcas Pt 2  
1 hour 6 min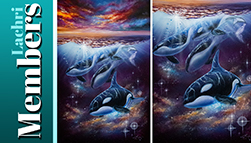 Orcas Acrylic Painting – Pt 3
1 hour 6 min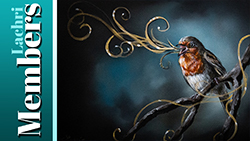 Singing Robin in Acrylics
1 hour 13 min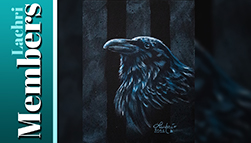 Beginners Acrylic Painting – Raven
Real Time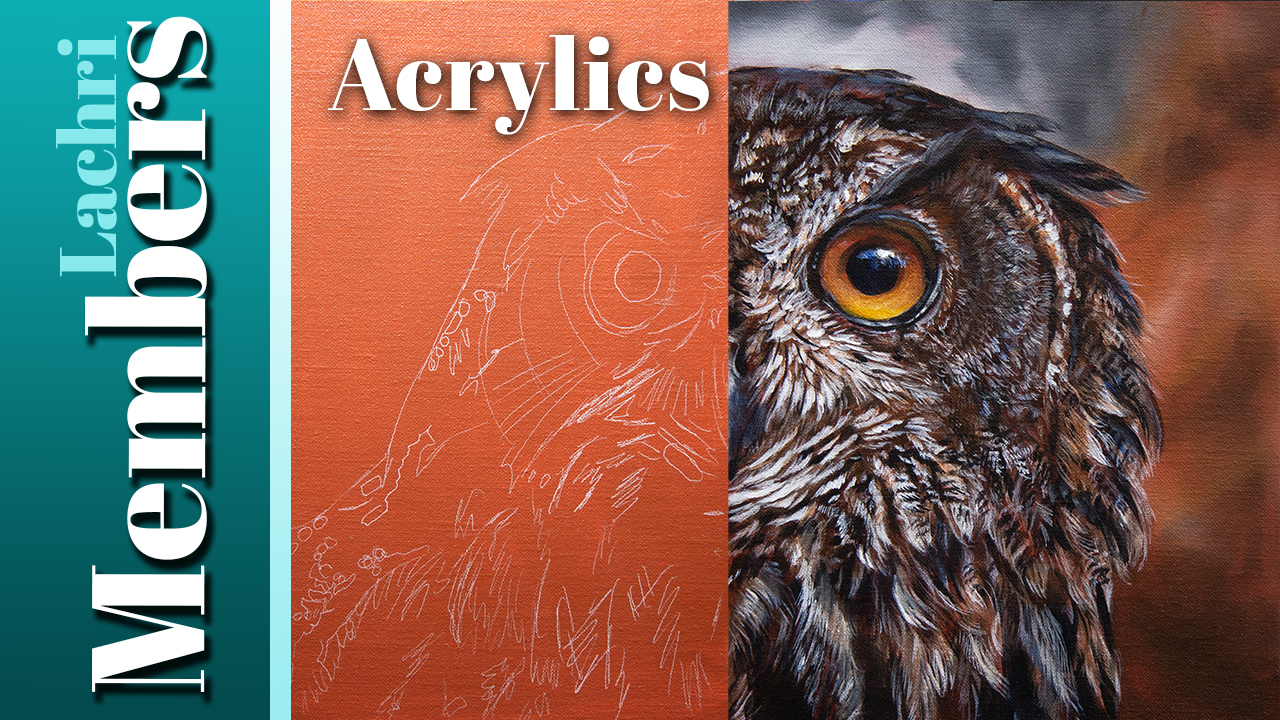 Eagle Owl Acrylic Painting  
1 hour 58 min 
Crackle Background for Fox in Acrylics
Real Time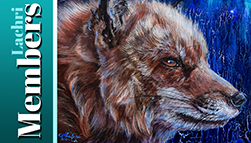 Fox Acrylic Painting
2 hour 1 min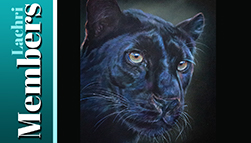 Black Leopard Acrylic Painting
3 hours 14 min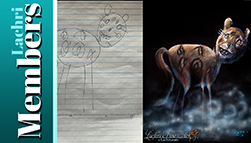 Turning a child's drawing into a painting
1 hour 22 min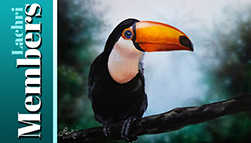 Toucan in Acrylics
1 hour 24 min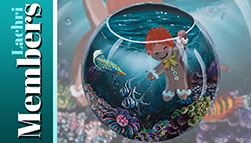 Fish Bowl Acrylic Painting
1 hour 53 min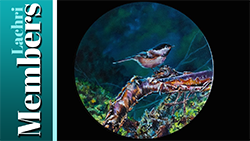 Chickadee Oil Painting 
2 hours 29 min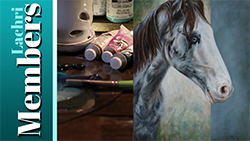 Horse in Oil over Acrylics 
1 hour 32 min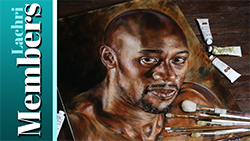 Portrait in Oil Paint
2 hours 6 min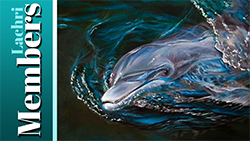 Dolphin in Oil over Acrylics
2 hour 10 min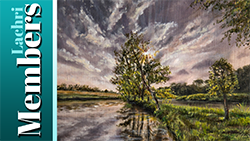 Landscape Part 1 Oil Painting 
1 hour 15 min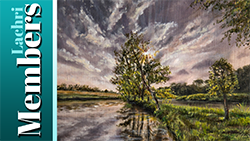 Landscape Part 2 Oil Painting
1 hour 7 min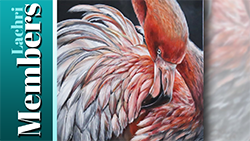 Flamingo in Oil Paint
1 hour 22 min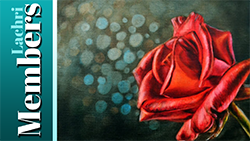 Rose Oil Painting
1 hour 17 min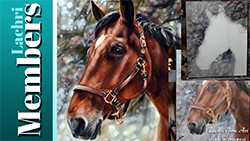 Horse Oil over Acrylic Painting 
1 hour 42 min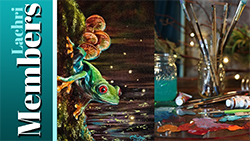 Red Eyed Tree Frog Oil Painting 
2 hour 8 min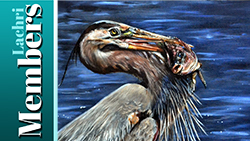 Great Blue Heron Oil Painting 
1 hour 28 min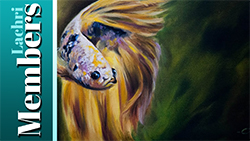 Betta Oil Painting 
2 hour 3 min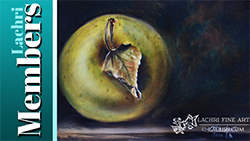 Into Oil Painting 
1 hour 4min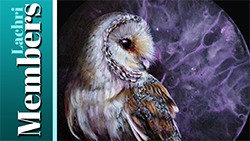 Barn Owl Oil over Acrylic Painting 
1 hour 5 min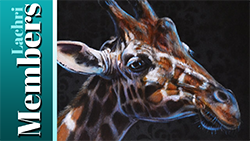 Giraffe Oil over Acrylic Painting 
1 hour 5 min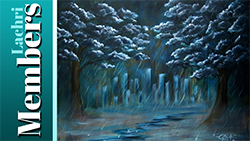 Cloud Trees Oil Painting
1 hour 5 min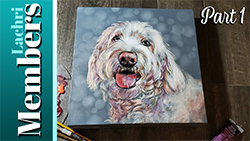 White Dog Oil Over Acrylic Painting Pt 1 
1 hour 45 min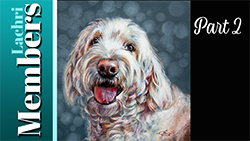 White Dog Oil Over Acrylic Painting Pt 2
1 hour 19 min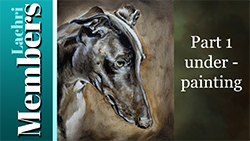 Greyhound Oil Painting Pt 1 
1 hour 58 min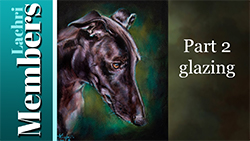 Greyhound Oil Painting 
1 hour 49 min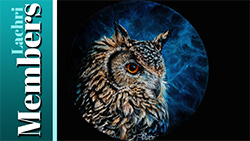 Owl Oil Over Acrylic Painting
2 hours 37 min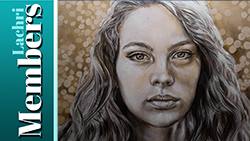 Portrait – Oil Painting Pt 1
1 hour 35 min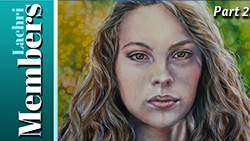 Portrait – Oil Painting Pt 2
1 hour 47 min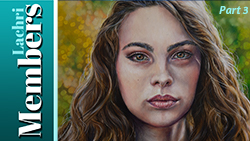 Portrait – Oil Painting Pt 3
59 min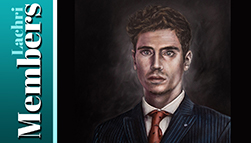 George oil over Acrylic Painting Pt 1 – Acrylic Underpainting
1 hours 49 min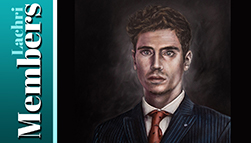 George  Oil Over Acrylic Painting – Glazing in Oils Pt 2
2 hour 16 min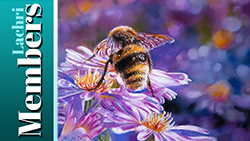 Bumblebee Oil Painting  
2 hour 34 min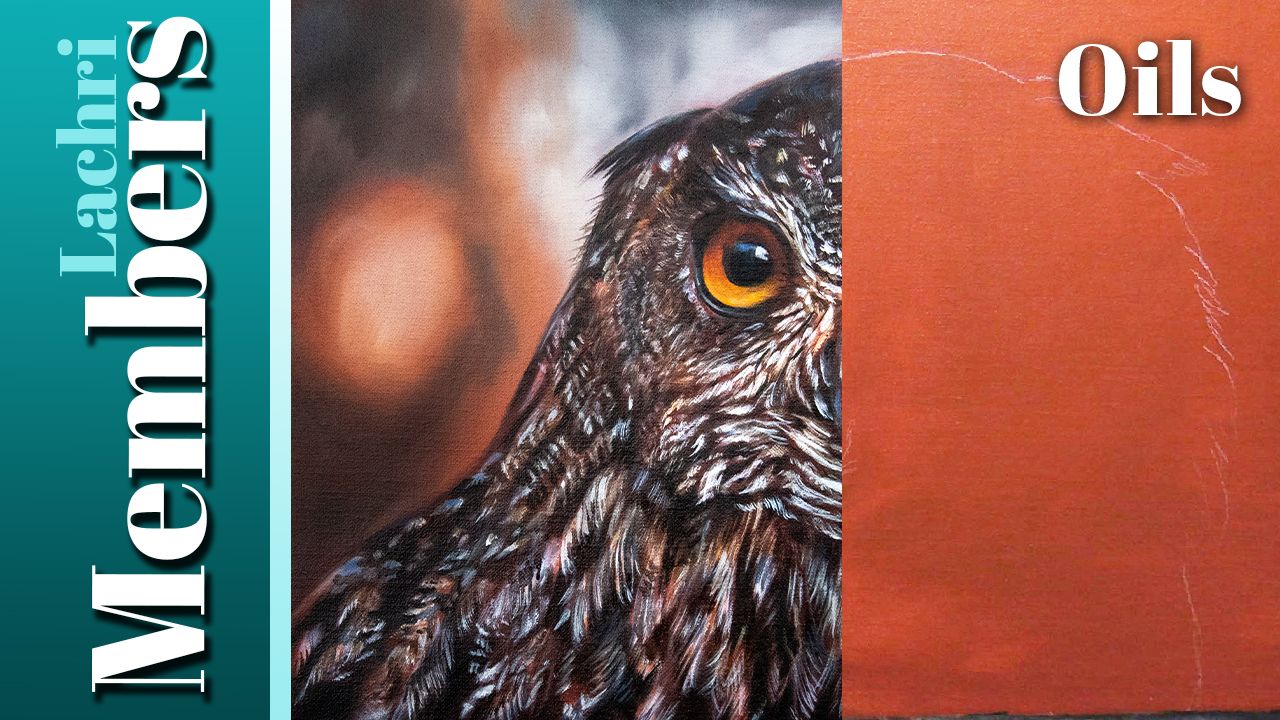 Eagle Owl Oil Painting  
1 hour 49 min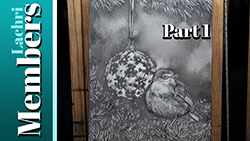 Christmas Oil Painting Pt 1
46 Minutes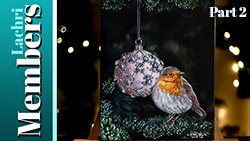 Christmas Oil Painting Pt 2
2 hour 22 min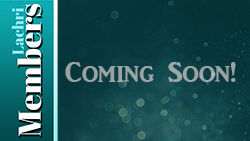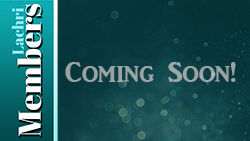 Coming Soon
1 hour 40 min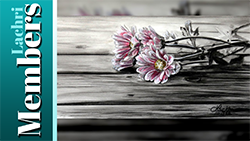 Flower in Water Soluble Graphite and Colored Pencil
1 hour 7 min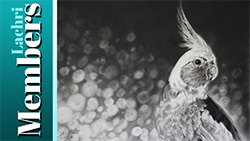 Cockatiel in Graphite
1 hour 15 min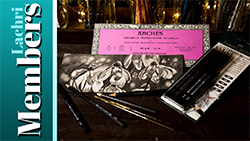 Flowers in Water Soluble Graphite
1 hour 13 min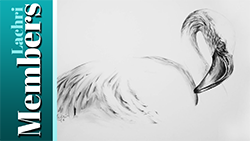 Flamingo in Graphite
1 hour 29 min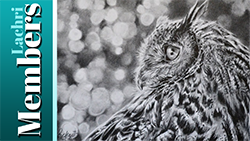 Eagle Owl in Graphite
1 hour 4 min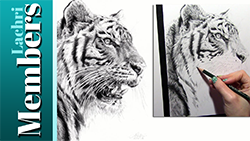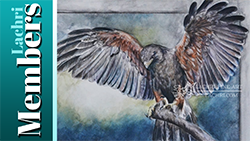 Hawk in Graphitint
57 min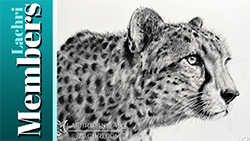 Cheetah Graphite
1 hour 12 min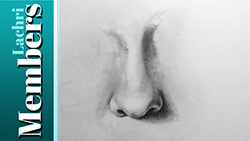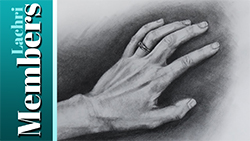 Drawing a Hand in Graphite
54 min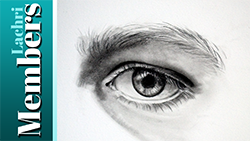 Drawing an Eye in Graphite
32 min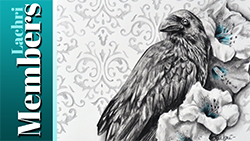 Water Soluble Graphite
1 hour 2 min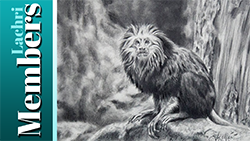 Tamarin in Graphite
1 hour 45 min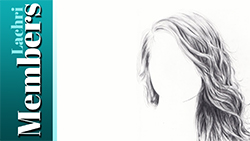 Hair in Graphite
1 hour 7 min
Orcas in Graphitint
54 min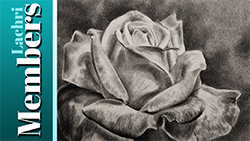 Rose in Graphite
2 hour 46min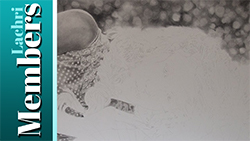 Portrait pt 1 Graphite
1 hour 59 min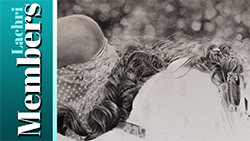 Portrait pt 2 Graphite
1 hour 49 min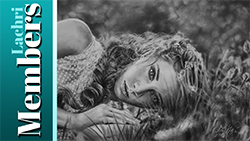 Portrait pt 3 Graphite
2 hours 8 min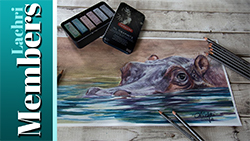 Hippo in Graphitint
1 hour 21 min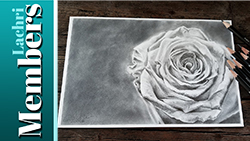 Rose Livestream in Graphite
3 hour 16 min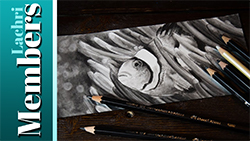 Clownfish in Water-Soluble Graphite
1 hour 19 min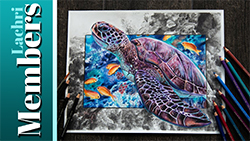 Sea Turtle Water-Soluble Graphite & Watercolor Pencil
2 hour 31 min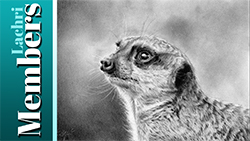 Meerkat in Graphite
1 hour 11 min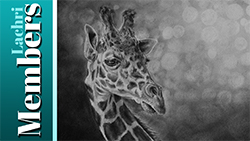 Giraffe in Graphite
1 hour 39 min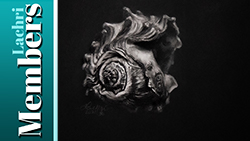 Shell in Water Soluble  Graphite
1 hour 25 min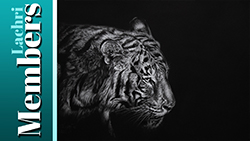 Tiger in Water Soluble  Graphite
3 hours 6 min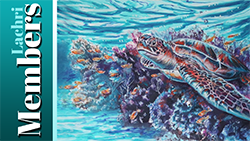 Inktense Sea Turtle 
2 hours 8 min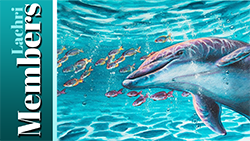 Inktense Dolphin 
1 hour 59 min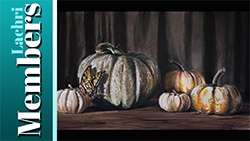 Inktense Pumpkins 
1 hour 31 min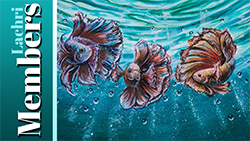 Bettas in Inktense
1 hour 24 min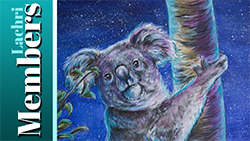 Inktense Koala
1 hour 4 min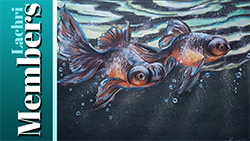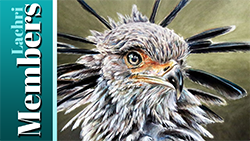 Inktense Secretary Bird 
2 hours 7 min
Octopus & Birds in Inktense
1 hour 30 min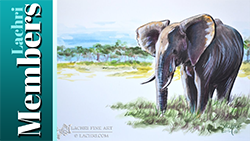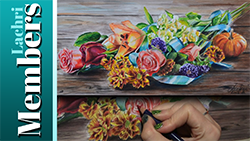 Inktense Flowers
1 hour 9 min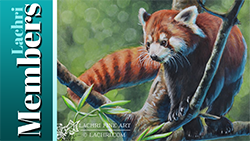 Inktense Red Panda 
1 hour 13 min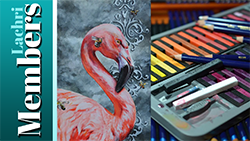 Flamingo in Inktense
1 hour 24 min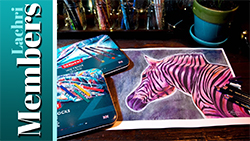 Inktense Zebra
1 hour 12 min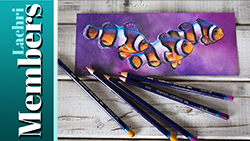 Inktense Clownfish
1 hour 54 min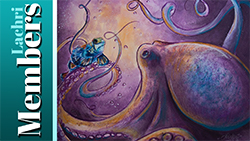 Inktense Octopus & Mandarin Fish
1 hour 24 min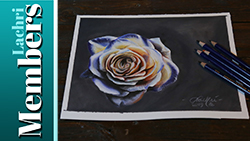 Inktense Rose
2 hour 45 min – Real Time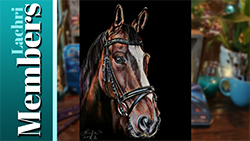 Inktense Horse
2 hour 25 min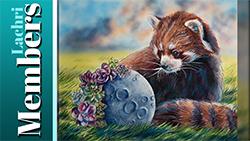 Inktense Surreal Red Panda
1 hour 23 min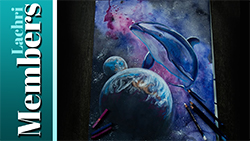 Inktense Surreal Dolphin
57 min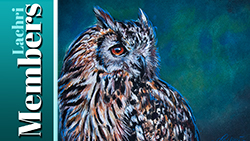 Inktense Eagle Owl
1 Hour 45 min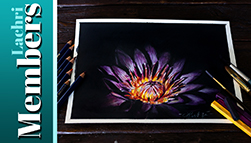 Inktense Flower
1 hour 26 min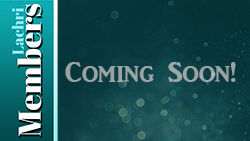 Coming Soon
1 hour 23 min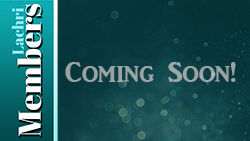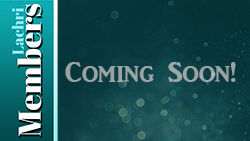 Coming Soon
1 Hour 45 min
Winsor & Newton Pigment Marker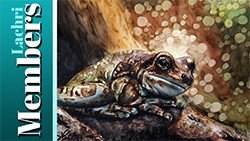 Pigment Marker Frog
1 hour 10 min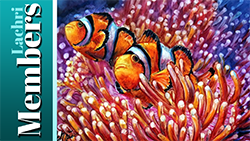 Pigment Marker Clownfish
1 hour 19 min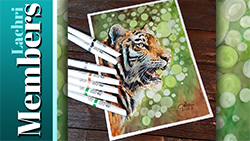 Pigment Marker Tiger
1 hour 18 min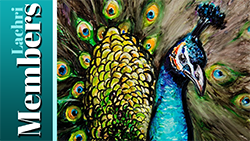 Pigment Marker Peacock
1 hour 5 min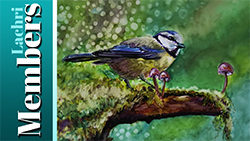 Pigment Marker Bird
1 hour 35 min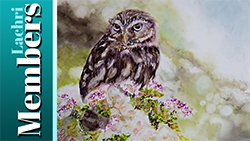 Pigment Marker Owl
1 hour 30 min
Watercolor Pencil & Pan Watercolor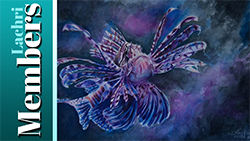 Lionfish in Watercolor Pencil
1 hour 49 min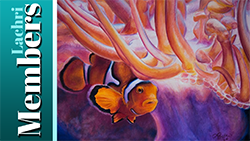 Clownfish in Watercolor Pencil
2 hour 12 min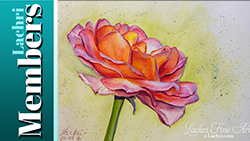 Rose in Watercolor Pencil
3 hour 51 min – real time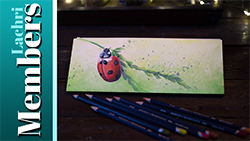 Ladybug in Watercolor Pencil
51 min – real time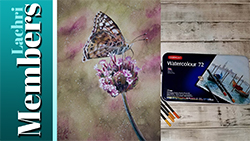 Butterfly in Watercolor Pencil
1 hour 16 min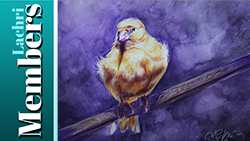 Canary in Watercolor Pencil
3 hour 20 min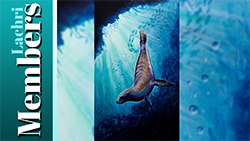 Sealion in Watercolor Pencil
1 hour 9 min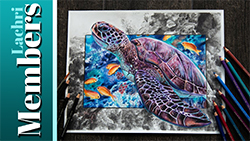 Sea Turtle Water-Soluble Graphite & Watercolor Pencil
2 hour 31 min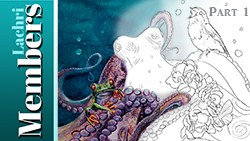 Surreal Octopus Watercolor Pans – Pt 1
1 hour 56 min
Surreal Octopus Watercolor Pans – Pt 2
2 hour 4 min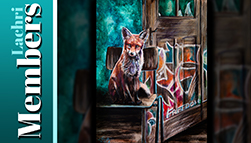 Fox Colored Pencil and Watercolor 
2 hour 58  min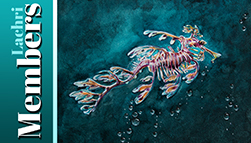 Leafy Seadragon Watercolor 
2 hour 5 min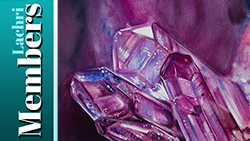 Crystal Watercolor Pencils
1 hour 38 min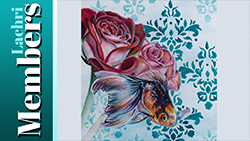 Goldfish & Roses Watercolor + Colored Pencil
1 hour 43 min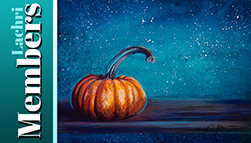 Pumpkin in Watercolor and Colored Pencil
47  min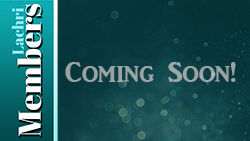 Coming Soon Watercolor 
2 hour 5 min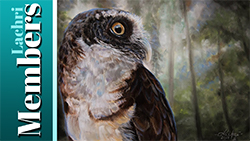 Owl in PanPastel & Colored Pencil
1 hour 56 min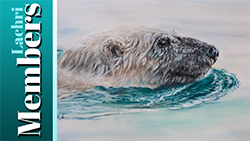 Polar Bear in PanPastels and Colored Pencil
1 hour 34 min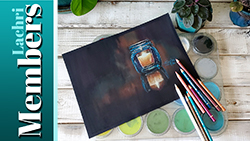 Candle in Colored Pencil & Pan Pastels  
49 min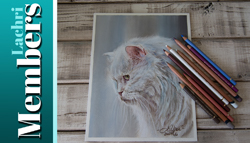 Cat in PanPastel & Colored Pencil
1 hour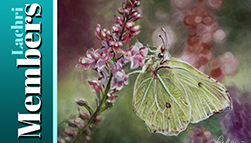 Butterfly in PanPastel & Colored Pencil
1 hour 50 min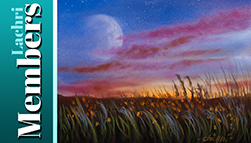 Pan Pastel & Colored Pencil Landscape
31 min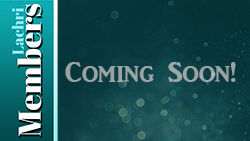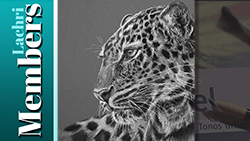 Leopard in Charcoal
2 hours 5 min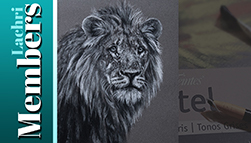 Lion in Charcoal
1 hour 28 min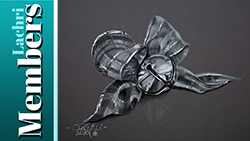 Bell & Bow in Charcoal
Real Time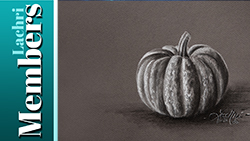 Pumpkin in Charcoal
Real Time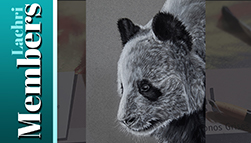 Panda in Charcoal
Real Time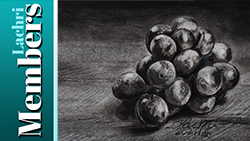 Grapes in Oil Based Charcoal
Real Time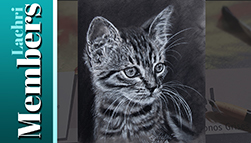 Kitten in Charcoal
Real Time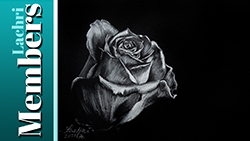 Rose in Charcoal
Real Time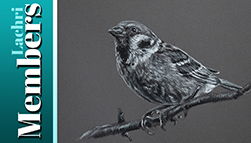 Bird in Charcoal
Real Time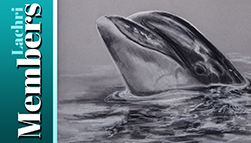 Dolphin in Charcoal
Real Time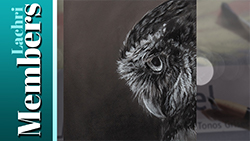 Owl in Charcoal
Real Time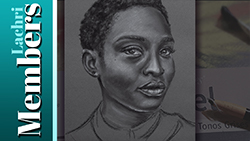 Beginners Portrait in Charcoal
Real Time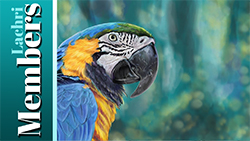 Digital Macaw Painting
1 hour 51 min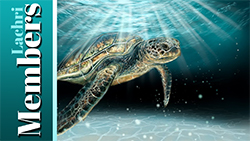 Digital Sea Turtle Painting
1 hour 45 min