I'm painting an octopus in this Aquashella themed painting for CoralFish12G I've got tips for acrylic painting and layering your paints. Want to see an update of my nano reef? Watch till the end!
Get your tickets for Aquashella Chicago at https://www.aquashella.com/
My new ricordea mushroom came from http://aquastudiosaquarium.com/
I am sponsored by Fredrix canvas. The canvas in this video may have been supplied to me by them. I honestly can't remember if this was one I purchased myself or not.
Supplies used: (amazon affiliate links)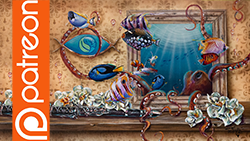 Watch the 2 hour long tutorial at Patreon http://patreon.com/lachri Get access to this and over 150 1-2 hour long tutorials in colored pencil, acrylic painting, oil painting, graphite and inktense for as little as $4/month plus other rewards like high-quality reference photos to use in your own artwork.