See how to paint a rainbow zebra with Derwent Inktense blocks and pencils! These are water soluble ink in block and pencil form and can be used with water and a paintbrush to create an almost watercolor-like look.
Supplies used: (amazon affiliate links)
Reference photo from http://wildlifereferencephotos.com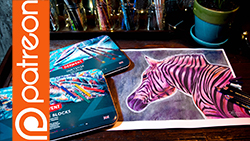 Watch the 1 hour, 12 min long tutorial at Patreon http://patreon.com/lachri Get access to this and over 150 1-2 hour long tutorials in colored pencil, acrylic painting, oil painting, graphite and inktense for as little as $4/month plus other rewards like high-quality reference photos to use in your own artwork.