My love four painting detailed work over the Liquitex Pouring Medium continues in this surreal painting! I actually painted this one for myself with some of my favorite things. Teal, roses and goldfish…what's better than that!?
Part 1 – Pouring the background and painting the Roses
Part 2 – Painting the Goldfish
Supplies used (amazon affiliate links):
*Fredrix convexo canvas – 30″ round
*Liquitex Pouring Medium
*Liquitex Soft bodied acrylics mixed with the pouring medium in Phthalo Blue, Phthalo Green, Unbleached Titanium White, Bright Aqua Green
*Liquitex Glazing Medium
*Liquitex Heavy Bodied paint in Titanium White, Raw Sienna, Naples Yellow Hue, Alizarin Crimson Hue Permanent, Transparent Mixing White, Ivory Black, Cobalt Turquoise, Cobalt Teal, Raw Umber
*Liquitex Basics in Cadmium Orange Hue, Phthalo Blue & Phthalo Green with a bit of titanium white to make my teal color
*Liquitex gloss varnish 
My finished painting is one of my personal favorites right now…mostly because it looks perfect in my living room!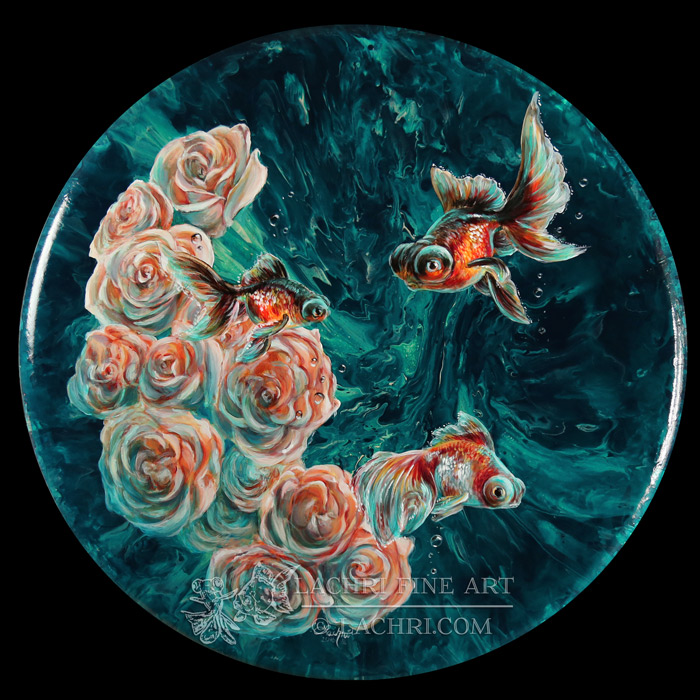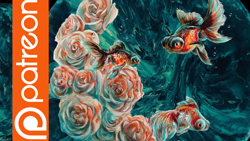 The hour-long versions of both of these tutorials are available for supporters on Patreon to watch now!!  If you're unfamiliar with Patreon, you get access to my 1-2 hour long tutorials every single week for as little as $4/month!