This week I'm showing you how to shade and draw details in a hand to make it more realistic. It doesn't matter how great your outline is if you don't shade it right, so that is what we're looking at here. Many of the tips I have for you will apply no matter which medium you choose to work in.
Supplies Used (amazon affiliate links) 
For this tutorial I'm working on Stonehenge paper (the one sold in the pad) http://goo.gl/VCgaXo
Faber-Castell 9000 Graphite pencils http://goo.gl/KJwAza
Tombow Mono Eraser http://goo.gl/51isQ5
Kneaded Eraser http://goo.gl/Ocb31D
Check out all of my favorite graphite supplies http://lachri.com/graphite-supplies/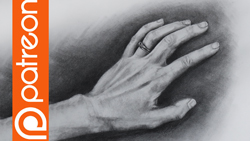 The 1-hour long version of this tutorial is available for supporters on Patreon to watch now!!  If you're unfamiliar with Patreon, you get access to my 1-2 hour long tutorials every single week for as little as $4/month!