I'm showing you how to shade and layer feathers in this eagle owl colored pencil drawing! This black paper is great for fine detail and smooth blending of colored pencil!
See how I mix titanium white powder and touch up texture for fine white details https://www.youtube.com/watch?v=9H3hO…
Other supplies used: (amazon affiliate links)
? Polychromos http://amzn.to/2qjrD9C
? Caran d'Ache Luminance http://amzn.to/2qqBUzY
? Derwent Drawing Chinese White http://amzn.to/2oWoQ4Z
? Mona Lisa Odorless Paint Thinner http://amzn.to/2qjnwui or Gamsol http://amzn.to/2oTnBTv
? Kum Long Pointed Sharpener http://amzn.to/2qqCmya
? Kum Sharpener http://amzn.to/2pJwTGm
? Canson Mi-Teintes black paper http://amzn.to/2pxQokd
? Colored Pencil Titanium White & Touch up Texture mixture from http://brushandpencil.com
These products are also available from Delta Art in Canada and Jackson's Art Supplies in the UK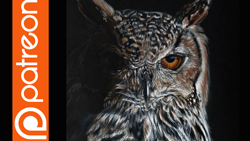 The 2 hour long version of this tutorial is available for supporters on Patreon to watch now!!  If you're unfamiliar with Patreon, you get access to my 1-2 hour long tutorials every single week for as little as $4/month!