Part 1: How to paint clouds and water reflections in oil paint
Part 2: How to paint grass and trees in oil paint
This oil painting tutorial was broken up into two parts. First we are going to look at how to paint realistic looking clouds and water reflections, then we're going to focus on the trees and grass!
Supplies used: (amazon affiliate links)
? Fredrix Belgian linen paint board 11×14
?Webers permalba black
?Weber permalba white 
?Liquin 
The following are base sets to get started if you don't have oil paints at all. Either set is a great start!
?Winsor & Newton Winton Color oil paint 
?Winsor & Newton Artists Oil Paint
?Mona Lisa Brush Tank
?Mona Lisa Odorless Paint thinner 
?The Masters Brush Cleaner
?Masterson Artist Palette 
?Viva Paper Towels 
?Mop Brush I recommend the 12 pack on these http://goo.gl/CiWgfD I also used a #4 liner brush and two #8 filberts, both synthetic hog hair and a few stiff round brushes.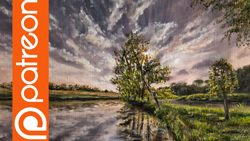 Both of the hour long versions of these tutorial are available for supporters on Patreon to watch now!!  If you're unfamiliar with Patreon, you get access to my 1-2 hour long tutorials every single week for as little as $4/month!