Derwent recently improved their graphite pencil line! They sent me a set of their new pencils to test out for you guys. I'm sharing my experience and a demonstration on this flamingo drawing with you in this week's video!
If you would like to draw this flamingo yourself, I've made my reference photo available for you at Patreon. You don't need to be a member to get it, he is free for everyone to use!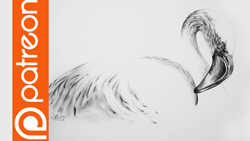 The 1 1/2 hour-long versions of this tutorial is available for supporters on Patreon to watch now!!  If you're unfamiliar with Patreon, you get access to my 1-2 hour long tutorials every single week for as little as $4/month!